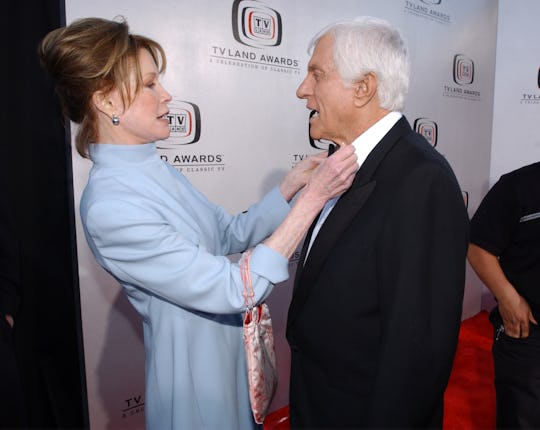 Frank Micelotta/Getty Images Entertainment/Getty Images
Dick Van Dyke Remembers Mary Tyler Moore
On Wednesday, January 25, 2017, the world once again held its breath when news broke that beloved TV star and passionate diabetes advocate Mary Tyler Moore died at 80 years old. Moore, who was renowned for her roles on both The Dick Van Dyke Show as well as The Mary Tyler Moore Show was legendary in the TV and Hollywood community. As the news of her passing makes reverberations from coast to coast from fans and well wishers alike, it's longtime friend Dick Van Dyke's reaction to Mary Tyler Moore's death that speaks to the very heart of their decades-long relationship. In a statement provided to Romper, Moore's longtime representative Mara Buxbaum says:
Today, beloved icon, Mary Tyler Moore, passed away at the age of 80 in the company of friends and her loving husband of over 33 years, Dr. S. Robert Levine. A groundbreaking actress, producer, and passionate advocate for the Juvenile Diabetes Research Foundation, Mary will be remembered as a fearless visionary who turned the world on with her smile.
Moore's death, after the tumultuous ending to 2016 that took Carrie Fisher, Debbie Reynolds, George Michael, Prince, Alan Rickman, and so many others to the Great Beyond, is yet another stark reminder that life is short and time is precious. Thankfully, Moore enjoyed an incredibly long, successful career and was happily married to husband Dr. S. Robert Levine at the time of her passing. And as her longtime friend and co-star so swiftly reminded, Moore's memory will forever carry her on.
Van Dyke's statement on Moore's death, as told to The Hollywood Reporter, detailed the history of their on-screen and off-screen relationship. His statement begins with:
She was 23 years old, gorgeous of course, and had a kind of mid-Atlantic accent. She sounded a little bit like Katharine Hepburn. My first question was, 'Can this girl do comedy?' After that I said, 'She's a little young for me.' I got to be on hand and watch her grow into the talent she became. She was just the best.
He continued:
Outside of her family, I don't think there was anyone more proud of her than I was. Just to watch her grow was such a thrill for me. She left an imprint on television comedy.
Moore played Van Dyke's wife on his self-titled The Dick Van Dyke Show. On Oprah: Where Are They Now?, Van Dyke talked about his first meeting with Moore: "The first time I met Mary Tyler Moore, I thought she was just beautiful, but I thought she was a little young." Moore was just 24 years old when the show started. As a relatively young woman making her first big break in the entertainment industry Van Dyke candidly shared that he didn't know if she had the humor to make it work in the long-term.
He told Winfrey:
She had this strange, Mid-Atlantic accent, kind of like Katharine Hepburn, and I said, 'Well, she's cute as she can be, but can she do comedy?' It wasn't two episodes before her timing came, and her sense of humor. She got it like that, what a pleasure.
Though Van Dyke admits they had a "teenage crush" on each other, you get a sense for just how profoundly the two respected each other and their on-screen abilities. As he (and the rest of the world) mourn the passing of both a friend and comedic genius, it's Van Dyke's memory of the brilliance of Moore that we should all do our best to remember.