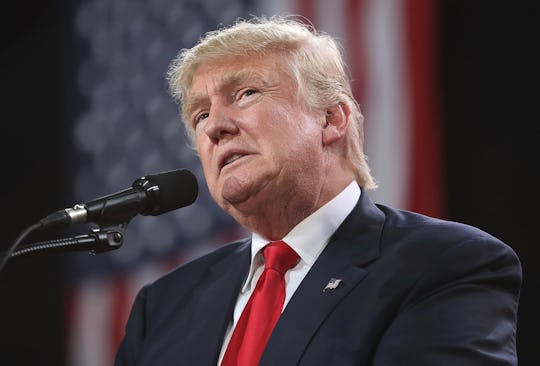 Joe Raedle/Getty Images News/Getty Images
Did A Donald Trump PAC Agree To Accept Illegal Funds? It's Still Unclear
According to an exclusive report done by the Telegraph, Great America, a Donald Trump PAC, allegedly agreed to accept illicit funds from foreign donors. The paper's undercover reporters reportedly claimed that there were senior execs at the super PAC that were allegedly willing to "channel" $2 million from a Chinese donor, even though there are laws that prohibit a super PAC from accepting foreign donations (because, that would mean foreign interests could impact the election, which is not great). Romper's request for comment from Great America and the Telegraph reporters were not immediately returned.
The undercover reporters pretending to represent the fictitious donor were assured by Great America PAC that they would "obtain influence" if Trump were elected to the White House in November. Eric Beach, the PAC's co-chairman, told the reporters (whom Breach thought represented the "donor") that their money would be "remembered" during a Trump presidency. Beach said "I'm not gonna twist your arm or anything, I just think that there's no way that this group, and you guys have been participating indirectly or directly, won't be remembered."
The Telegraph said that they had undercover reporters attempt to approach both pro-Trump and pro-Clinton organizations. According to their report, the pro-Clinton PACs didn't respond to initial advances, but Great America, and Breach in particular, allegedly called the undercover reporters back about their offer of a foreign donation. Great America PAC, which, as a PAC is not officially affiliated with the campaign, also has the backing of former New York City mayor and Trump advisor Rudy Giuliani and Trump's son Eric.
Since it was an undercover operation, the alleged deal reportedly didn't go through since there was never a Chinese donor in the first place, but if voters are worried about where and how super PACs are raising cash, the allegations would prompt serious questions, since things allegedly went pretty far.
The Telegraph reporters allege that Beach did express concern about the nationality of the donor and wanted to know the identity, but then offered to get the donation through a 501(c)(4), which isn't prohibited from accepting foreign funds and also doesn't have to name donors, like the PACs do. Beach told them in an email that any "path [the PAC] recommend[s] is legal."
Later, Jesse Benton, who was a senior figure at the PAC until he was charged in May for buying a senator's endorsement, reportedly emailed the undercover reporter with details about how to channel the donation and allegedly voiced his desire to not leave a "paper trail." Benton reportedly said that he would channel the donation through his own company. He now denies having worked on the deal at all. Separate reports have also alleged that the Great America PAC is a "scam."
Trump has blasted PACs in the past for having too much influence on politics, but if any of the undercover reporters's stories are true, it could be the kind of news the Trump campaign doesn't need in the final weeks of the election, even if the two are not officially intertwined.