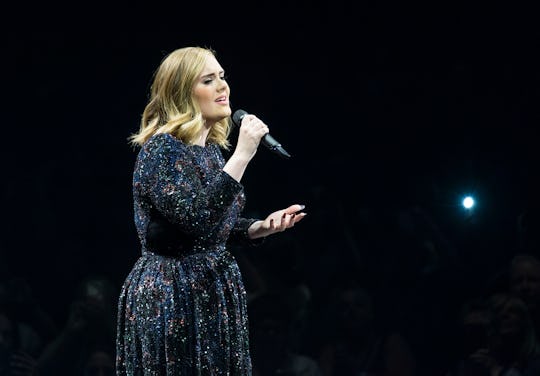 Michel Porro/Getty Images Entertainment/Getty Images
Fans Think Adele Got Married Because Of This Photo
Something's different about British singer Adele lately. While there's been no official announcement from her camp, she and her longtime boyfriend, businessman Simon Konecki, have recently been spotted wearing gold bands on their left hands, according to People, and now fans are wondering, did Adele get married? Her reps told the magazine they have no comment at this time. A request from Romper for comment was not immediately returned.
People reported that Adele was seen out and about in Los Angeles last week wearing a simply band on her ring finger, which could conceivably have been construed as a low-key engagement ring (the couple has not announced an engagement). But on Tuesday, Konecki was also spotted wearing an identical ring, adding fuel to the gossip fire. Sure, they could be promise rings. They could be "engaged to be engaged." But Adele and Konecki aren't teenagers, they've been together for five years, and they share a four-year-old son, Angelo. It looks like this could be the real deal. If so, it's surprising that the couple is keeping their marriage under wraps, since Adele was recently so forthcoming about other family plans, telling the crowd at a November concert that she and Konecki were planning another child, according to Us Weekly.
During an interview for the December 2016 issue of Vanity Fair, Adele said that she didn't feel the need to marry Konecki; she felt that having a child together was a big enough commitment. But then again, she also told the magazine at that time that she was afraid to have another child (she suffered from postpartum depression after Angelo's birth), and she seems to have changed her tune now. Could she have finally decided to wed Konecki, who she called "perfect"? She did also say that theirs is "the most serious relationship I've ever been in."
The Mirror had reported in late October that the couple had gotten engaged, citing an anonymous source's claim, "They won't make a big song and dance about it, that's not the way either of them are, and you won't see Adele walking around with a huge diamond on her finger flaunting it." Well, that's true; we haven't. Another Mirror report from about a week later had further claims about the alleged wedding: "The plan is to marry in L.A. The wedding will be in one of the school holidays so Simon's daughter can attend. It's looking like it will be Christmas, but they want to keep details under wraps." It was again sourced by anonymous "friends," but so far, everything's adding up. Congratulations to the happy couple if the rumors are true, and if they're not, congratulations on trolling the media so well!