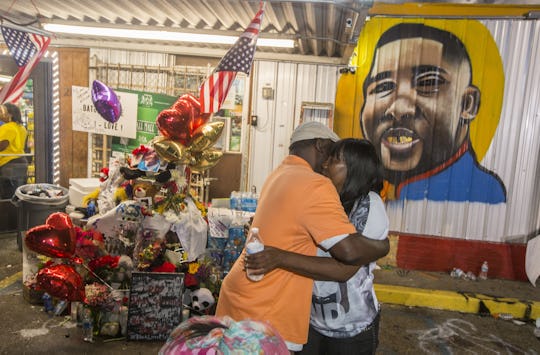 Mark Wallheiser/Getty Images News/Getty Images
Did Alton Sterling Have A Gun? A Second Video Is Helping To Clarify Rumors
By now, the death of Alton Sterling has not only made headlines throughout the country, but it has somehow, unbelievably, been usurped by two other completely horrifying news events: the shooting of Philando Castile during a routine traffic stop in Minnesota, and the ambush sniper attack that killed five Dallas police officers during a peaceful protest in honor of Sterling and Castile. One of the lingering questions in Sterling's case however, was whether he was armed, and how that affected his death. Did Alton Sterling have a gun? According to CNN, the recent release of a second video of the shooting is helping to provide more information.
In the early hours of Tuesday morning, Baton Rouge police officers Blane Salamoni and Howie Lake II responded to an anonymous 911 caller who alleged a black man outside the Triple S Food Mart had threatened him with a gun. Video footage taken by a witness in the parking lot showed the two police officers pinning Sterling to the ground (after they allegedly used a stun gun on him), and then shooting him multiple times. In the aftermath, many have criticized the fact that Sterling reportedly had a gun in his pocket (along with a fairly extensive criminal history), as justification for the officers' aggressive action. But others have argued that Sterling's gun had been in his pocket, retrieved only after he was shot and killed, and that, given Louisiana's open carry laws, Sterling having a gun wasn't unlawful. The Baton Rouge Police Department released the following statement about the incident on Facebook:
OFFICER INVOLVED SHOOTING ON NORTH FOSTER DR
Baton Rouge Police are investigating an officer involved shooting that occurred around 12:35am this morning at 2112 North Foster Dr, Triple S Food Mart. Uniformed officers responded to a disturbance call from a complainant who stated that a black male who was selling music cd's and wearing a red shirt threatened him with a gun.
Officers made contact with ALTON STERLING, 37, 6061 Plank Rd, in the parking lot of the business. An altercation between Sterling and the officers ensued. Sterling was shot during the altercation and died at the scene.
Two BRPD officers have been placed on administrative leave per standard procedure.This is an ongoing investigation.
According to CNN, the second bystander video, this one taken by the owner of the Triple S Food Mart, Abdullah Muflahi, shows a view of the altercation that is closer up than the one that originally circulated online Tuesday. And in it, it appears to show one of the officers removing something — possibly a gun — from Sterling's right pocket while he lay wounded on the ground.
The video seems to corroborate the account of the shooting that Muflahi gave Tuesday following the shooting. Mulfahi said he and Sterling had known each other for about six years, and that Sterling often stood outside his store, selling CDs and DVDs. He told CNN that he hadn't witnessed any kind of confrontation that night that would have led the police to be called, and that, after Sterling was pinned by police, an officer yelled, "gun," and shots were fired. Afterward, Muflahi said he saw the officer pull the gun from Sterling's pocket.
That detail is important, because, according to The Huffington Post, the police department claimed that Sterling was armed when they approached him. And he was, from the sounds of it, though not in a way that could have posed any kind of danger (being armed in and of itself doesn't warrant being shot, otherwise how would people with concealed carry or open carry licenses be safe?). Given the considerable force allegedly used against Sterling — he was pinned down by two officers, and they used a Taser on him before they ultimately shot him — it would have been next to impossible for his weapon to pose a threat.
About the video, Mulfahi told The Guardian,
As soon as I finished [filming], I put my phone in my pocket. I knew they would take it from me, if they knew I had it. They took my security camera videos. They told me they had a warrant, but didn't show me one. So I kept this video for myself. Otherwise, what proof do I have?
Of course, the fact that Sterling didn't have a gun in his hand doesn't mean that it can't be argued that the fact that he was armed in general made him a threat — even in a state like Louisiana, where gun laws are lenient in comparison to the rest of the country. Regardless, the fact that Sterling is dead without actually appearing to have done anything to warrant it based on two separate eyewitness videos certainly suggests that a thorough and transparent inquiry is needed. And that justice needs to be served for Sterling, and for his grieving family left behind.