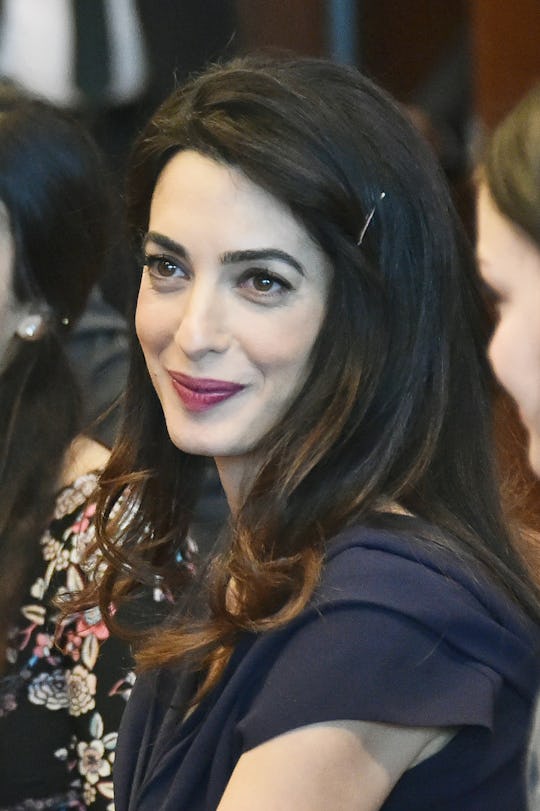 Mike Coppola/Getty Images Entertainment/Getty Images
Actually, It Doesn't Matter How Amal Clooney Gave Birth
Sure, right now the world seems dark and dreary, but the secret arrival of Amal and George Clooney's kids have certainly brightened things up a bit. AP reported the couple welcomed their first children, Alexandra and Ella, on Tuesday. While the world waits for a first look at the twins, fans are wondering, "Did Amal Clooney have a c-section?" While the procedure is relatively common during the birth of twins, that doesn't mean Amal didn't bring her children into the world "the old fashioned way." In the end and always, of course, what matters it that the babies, and mom, are healthy.
In an email to USA Today, the Clooney family spokesperson broke the news, saying:
This morning Amal and George welcomed Ella and Alexander Clooney into their lives. Ella, Alexander, and Amal are all healthy, happy, and doing fine. George is sedated and should recover in a few days.
Let's hope the twins inherit their mother's intellect, passion for social justice, grace, and poise, and they snag just a touch of their father's humor.
Any additional information regarding the twins, including how they entered the world, has yet to be shared. Of course, as with any new baby (and especially a set of celebrity babies) people are hankering to learn more about their arrival. According to the Center for Disease Control and Prevention (CDC) approximately 32 percent of expecting mothers give birth via c-section. That percentage increases in the case of multiples, although that doesn't necessarily mean every multiple birth will inevitably end in a c-section.
In fact, in a recent study in the New England Journal of Medicine confirms that "just because you are pregnant with twins does not mean you have to plan on having a c-section to maximize your chances of a safe delivery." Out of 2,804 women and their babies, according to the study, "moms and babies do equally well whether they and their doctors plan for a cesarean section or plan for a vaginal delivery."
Of course, how Amal ended up bringing her twins into the world, for all intents and purposes to the general public, doesn't matter. That experience is uniquely personal to her and her family. Whether she decides to share the story of her twins' arrival, or she keeps the details personal, is entirely up to her. In the end and always, what matters most is that she was respected during the birthing process, given as much personal agency over the entire experience as humanly possible, and was able to birth two healthy, happy, thriving babies.
Until more information, if any, is revealed, the only thing fans of the couple and new parents should really be saying is "Congratulations!" Of course, it's totally understandable if you want to wonder how Alexandra and Ella are going to follow their mother's footsteps and change the world, one United Nations visit at a time.