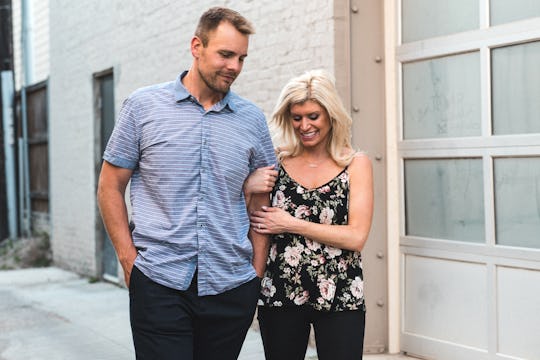 Valerie Chiang/Lifetime
Here's Where Amber & Dave's Marriage Stands On 'Married At First Sight'
Season 7 of Lifetime's Married at First Sight is quickly approaching the end of its 8-week marrying-a-stranger-what-could-go-wrong experiment and fans who have been with the Season 7 couples since the beginning are probably wondering at this point: did Amber and Dave get divorced on Married at First Sight? The senior title analyst and high yield bond trader from Dallas have had a bumpy road so far.
Both of their Instagram accounts are private, so fans can't glean any clues from longwinded caption essays about the ups and downs of marriage. Soapdish.com really went the extra mile, reportedly confirming with the Dallas courts that Amber and Dave had not yet filed for divorce as of September 20. One couple this season, Mia and Tristan, have already announced their plans to divorce. That leaves Danielle and Bobby, along with Amber and Dave, to reveal their final decisions in the finale.
One of the huge obstacles facing Amber and Dave this season seems to be Amber's insecurities and Dave's failure to take them very seriously. He's been pretty dismissive of her admittedly intense anxiety and, rather than tackle the problem as partners, they seem to be stuck in a cycle of finding fault in the other person.
The trouble started right away when, the morning after Amber and Dave got married, they hosted a post-wedding brunch and Amber became concerned about the guest list. She invited her friends and family, while Dave only invited his groomsmen and their families. He explained that he simply doesn't have a close relationship with his biological family, but Amber worried that his family secretly didn't like her. Needless to say, this was a challenging start.
Amber has had other doubts which she takes very seriously, but due to their seemingly out-of-nowhere origins, Dave has trouble understanding what the problem is. For example, there's the fact that Amber knows Dave prefers brunettes, but she believes she was "meant to be a blonde." She dyes her hair accordingly and when it started falling out, Dave suggested that maybe she should stop dying it (which would entail going back to her natural color: brown). Amber interpreted this to mean that he's secretly hated her hair all along and would prefer her as a brunette. Said Dave on a recent episode of Married at First Sight: Unfiltered, according to Newsweek:
It had nothing to do with that. I don't care. I really don't. What I said, and what I really feel is, like, "Hey, if this is making your hair fall out, let's at least think about other options." ...She already had it in her mind that I didn't like how she's a blonde, which honestly isn't true. It's a little unfair.
Meanwhile, in a session with a relationship coach, Dave was asked to give his rating on Amber as a wife and he gave her a 7.5. Amber, already plagued with doubts, was devastated by the number and continued to obsess over it. "I was just mad, like, just lie! Just give me some white lie and make me feel better!" she said on Married at First Sight: Unfiltered. I mean, lying doesn't seem like the best strategy in couple's counseling? In any case, the season finale airs on October 16, so viewers will likely have to wait till then to hear what the couple's decision is.