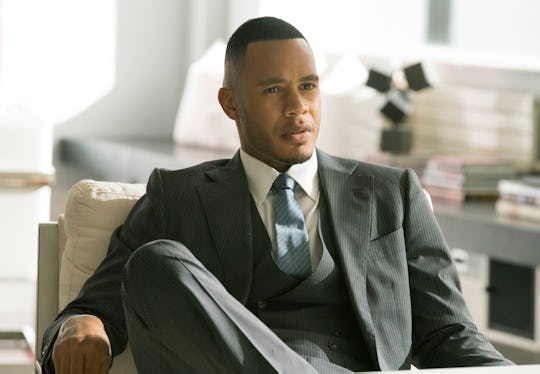 Chuck Hodes/FOX
Did Andre Cut A Little Girl's Hair On 'Empire'? Twitter Has Some Thoughts
It seems that with each passing episode, Andre is becoming more and more like his father on Empire. From the start of the show, we knew that Andre wanted to be Lucious' successor – especially because he is the only Lyon child to not be musically inclined. Increasingly, though, he's getting up to Lucious-like tactics. This season alone, we've seen a more sinister side to Andre...and Wednesday's episode just raised the stakes. Did Andre cut a little girl's hair on Empire? Social media has some thoughts on the matter.
This wouldn't be the first time in recent weeks that Andre played dirty. Earlier this season, he stooped so low as to hack Empire and release employees' emails – and a nude of Cookie – in the process. He didn't stop there: early on Wednesday's episode, he sabotaged Tiana's appearance at fashion mogul Helen von Wyeth's show. This was, of course, to get his new girl Nessa to sing at the show instead.
Andre's reign of sabotage was just beginning, however. He went after Helen von Wyeth herself – but at least in this case, he may have been motivated by justice as opposed to power. Von Wyeth was clearly racist, and did not want a black girl to perform at her show. Once she agreed to it, she requested that Tiana (or Nessa) straighten her hair.
What did Andre do to combat her belief that white girl hair is superior? He didn't directly hurt von Wyeth herself, but her 8-year-old daughter: he cut off her hair. As soon as that little girl woke up to find her locks chopped, Twitter was abuzz with reactions:
Looks like Andre didn't know about Michelle Obama's message to "go high." In any event, this move worked: Helen von Wyeth allowed Nessa to perform at the fashion show without a word. When Cookie addressed Andre's dirty tactic, he said he "saved the day for Empire."
Given that Andre has already hacked his and his family's own company, there's no guessing what he's capable of. Will he continue to dig deeper and deeper? Will he cut off a toddler's hair next? We'll just have to keep watching.