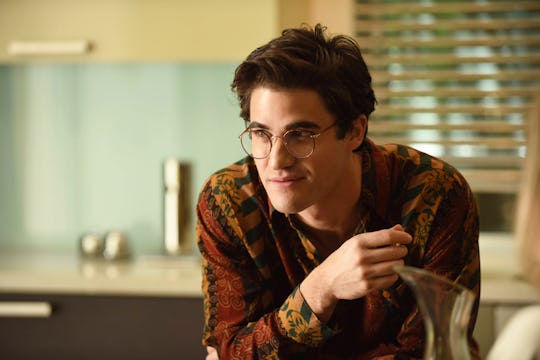 Ray Mickshaw/FX
The Search For Andrew Cunanan Led To Some Frustrating Results
Andrew Cunanan killed five people in a spree that lasted for a few months in 1997, ending with the shooting of Gianni Versace in broad daylight on the morning of July 15. After committing so many violent crimes, one would think Cunanan would have seen some time behind bars. So did Andrew Cunanan got to jail? He might have, had he been arrested and put on trial. There was no possibility of that happening though, because Cunanan took his own life before the cops could find him.
Cunanan's first four murders occurred in a very short span of time: he killed his friend Jeffrey Trail on April 27, his ex-boyfriend David Madson six days later on May 3, real estate mogul Lee Miglin on May 4, and cemetery caretaker William Reese five days after that. Following Reese's murder, however, Cunanan went down to Miami where he waited for two whole months before killing Versace on the front steps of his home.
There were witnesses to the crime, both while it was happening and in the immediate aftermath. In Vanity Fair, it says that Versace's partner Antonio D'Amico raced to the gate when he heard the shots and said he could have identified Cunanan. Neighbor Merisha Colakovic was returning home after walking her daughter to school and saw the entire thing, according to the Chicago Tribune. Vanity Fair also indicated Cunanan was caught on a hotel security camera near Versace's home. Despite that, Cunanan evaded capture for another eight or nine days.
Police were actively looking for Cunanan after his first two murders, according to the LA Times. The police in Minnesota, where the crimes were committed, had notified the authorities in San Diego (where Cunanan was from) after finding Madson's body. "We were behind from the beginning with Cunanan," said San Diego deputy U.S. Marshal Bill Sorukas. "Usually these guys have a history, a probation officer, a court file, a list of previous contacts. This time we had nothing. We had to start from scratch to figure out who Cunanan was."
Cunanan lacked a personal connection to his next two victims, but there was still plenty of evidence linking him to the crimes. The LA Times said Madson's car was found outside Miglin's home with pictures of Cunanan inside. Miglin's car was found by Reese's body. And it doesn't seem like Cunanan was laying particularly low during his two months biding time in Miami.
Though Vanity Fair reported that he was living there under a false name and possibly going out in wigs to disguise his identity, he also allegedly went out every night to gay bars in the area. But the most incriminating detail was that Cunanan had pawned one of Miglin's belongings at a local pawnshop using his own name and passport. The pawnshop had reported it to the Miami police a week before Versace was killed.
Prior to killing Versace, Cunanan's pattern had been to kill, take his victim's car, and immediately flee the state. Perhaps police had anticipated that he would do the same after Versace and had not expected him to remain in Miami. In the same interview with the LA Times in 1997 (shortly before Cunanan was found), Sorukas said, "I'm worried about that patrol officer in Wyoming who might stop Cunanan's car without knowing who he is and what he's capable of. I'm praying we get that one phone call that tells us where he is."
Cunanan was staying in an empty houseboat in Miami that belonged to a German businessman who was not in town. He was discovered when the caretaker Fernando Carreira was doing a routine check of the houseboat; finding it broken into, Carreira investigated before hearing a shot and fleeing. Cunanan had shot himself in the head.
Cunanan's suicide meant that no one would ever be able to get an explanation from him for his crimes, but FX's The Assassination of Gianni Versace will attempt to fill in the gaps. The show's research in relation to Versace himself has been contested by the Versace family in several statements, with a portion of the statement on Entertainment Weekly reading, "The company producing the series claims it is relying on a book by Maureen Orth, but the Orth book itself is full of gossip and speculation."
FX and 20th Century Fox, however, have released their own statement on the matter, assuring the public that "We stand by the meticulous reporting of Ms. Orth," calling it "heavily researched and authenticated." Maureen Orth is the author of the book Vulgar Favors upon which the show is based.
The show may try to find answers regardless of the fact that all of the key players are not around to provide them. Cunanan's death meant that justice could never truly be served because he couldn't be put on trial or convicted and sent to prison. There would never be official closure for his crimes, but it's made all the more heartbreaking when one realizes how close Cunanan was to being captured.
Check out Romper's new video series, Romper's Doula Diaries:
Watch full episodes of Romper's Doula Diaries on Facebook Watch.