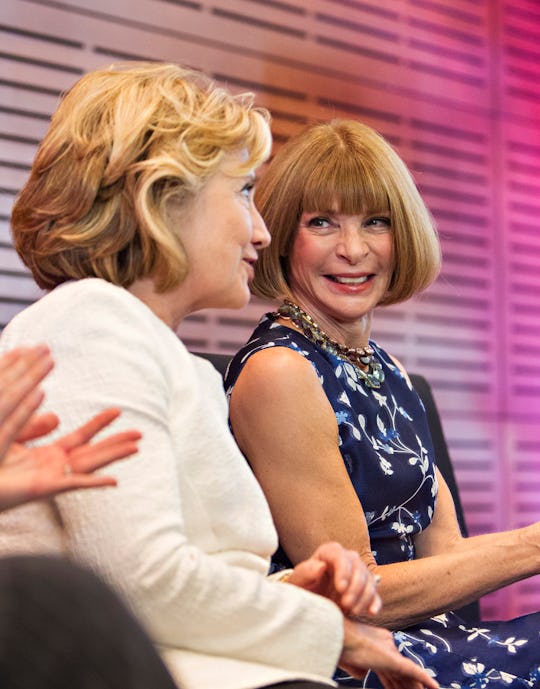 Wesley Hitt/Getty Images Entertainment/Getty Images
Anna Wintour Was An Ardent Clinton Supporter
According to Politico, President-elect Donald Trump has a meeting scheduled on Friday with Vogue editor-in-chief Anna Wintour and Vanity Fair editor Graydon Carter, who once called Trump a "short-fingered vulgarian." While Carter may have made his feelings for Trump pretty clear, some might be wondering just where Wintour stands, politically. Did Anna Wintour support Hillary Clinton during the election, or was she stumping for Trump back in November?
Judging by Wintour's actions last year, it seems safe to say that she supported Clinton. Led by Wintour as its editor-in-chief, Vogue issued its very first presidential endorsement in October, writing:
Vogue has no history of political endorsements. Editors in chief have made their opinions known from time to time, but the magazine has never spoken in an election with a single voice. Given the profound stakes of this one, and the history that stands to be made, we feel that should change.
Wintour was also rumored to be helping Clinton with her wardrobe choices during her historic campaign, according to Us Weekly, and in September, alongside Chelsea Clinton and Huma Abedin, she launched a "Made for History" collection to support Clinton. She also co-hosted a fundraising lunch for Clinton along with several several other big names in fashion in September, according to New York Magazine.
Wintour also got in a spot of trouble when she criticized Trump on a crowded train. "Trump's foundation has done nothing," she reportedly said, according to The Mirror. "Its board is packed with relatives, and he's going to use his presidency to sell himself and his brand and profit personally for himself and his family."
When she was contacted by media, she didn't refute the comments attributed to her. Instead, she simply issued an apology, saying, "I immediately regretted my comments, and I apologize. I hope that President-elect Trump will be a successful president for us all."
Soon after making those comments in December, however, Wintour met with Trump, according to ABC News. Neither party discussed what went down in that first meeting, but according to Time, it could do with possible future coverage of the First Lady, a longstanding Vogue tradition.
As for Friday's meeting, Trump simply tweeted, "Anna Wintour came to my office at Trump Tower to ask me to meet with the editors of Conde Nast & Steven Newhouse, a friend," before confirming that he would indeed accept the meeting invitation. What the business and fashion moguls will be discussing remains a mystery — but judging by Wintour's history of supporting Clinton, it's most likely a professional matter, rather than a personal one.