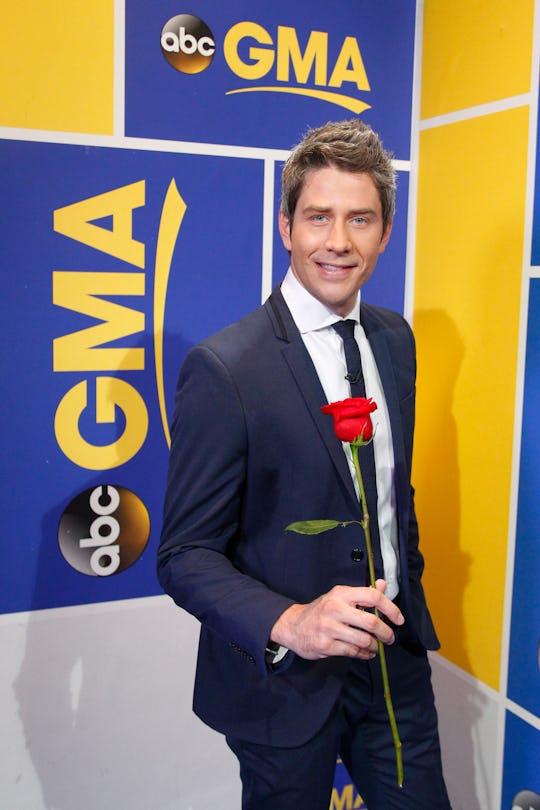 Lou Rocco/ABC
Arie's Love Story With Emily Maynard On 'The Bachelorette' Didn't Go As He'd Planned
Everyone knows that every season of The Bachelor or The Bachelorette is supposed to end with a proposal (right, Peter?) but those proposals don't always go exactly as planned. Now with the new Bachelor, everyone wants to know if he ever got down on one knee during his first round in the franchise. So did Arie propose to Emily Maynard on The Bachelorette? Arie admitted he was very much in love with the star of the 2012 season, but he never actually got the opportunity to offer her that coveted Neil Lane diamond ring. Luckily this is Arie's second chance at (televised) happy-ever-after.
As far as heartbreaking seasons of The Bachelorette go, Arie's season with Emily was a real doozy. The two of them looked about as in love as it is possible for two people to be. After all, Arie didn't get the nickname "the Kissing Bandit" for no reason. The physical chemistry between them was off the charts. Unfortunately, it seemed at the end that Emily's heart belonged to another. In a truly tragic scene, she broke Arie's heart (and hearts across America) when she told him that she was choosing someone else. This, by the way, was the episode in which Arie proclaimed, "Tomorrow, I'm getting engaged." Poor guy.
Arie did not get engaged the next day. America watched through eyes blurry with tears as Arie drove away. He was next seen at the After the Final Rose special in which he admitted that he had flown to Emily's town to see her after the show, and even left her his journal from his time on the show so that she could see how truly genuine he was. But she didn't even read the journal. Clearly what we are seeing here is a man who really, really wants to get engaged. So while no, he didn't get engaged to Emily Maynard, it is possible that he is engaged at this very moment to a woman we have yet to meet on television. It's probable, even.
Meanwhile, Emily's engagement to Jef Horn did not last much longer after the finale of her season. She is now married with several children to a man she met at church and appears to be very happy with her life. That being said, I can't help but wonder what would have happened if she had chosen Arie in the end instead. Would that engagement have lasted? Was Arie really the right man for her all along? The world will never know.
For what it's worth, Emily has been nothing but supportive of her ex becoming the next star of The Bachelor. To Us Weekly, the former Bachelorette said, "I can't think of a better person to be The Bachelor than Arie and I've been hoping this day would come since Season 8 ended!" She added, "He's a gentleman through and through and all the girls on his season are lucky to have him." If only everyone could always be so supportive of their exes on the road to finding their new spouse.
Luckily now everyone will get to see Arie get another shot at love by romancing 29 suitors of his own. The women cover a wide range of ages, but each is obviously beautiful and accomplished and could potentially make a perfect match for Arie. So hopefully he finds true love during this new and exciting journey we're all about to embark on with him. That has actually happened once or twice, hasn't it?
Check out Romper's new video series, Romper's Doula Diaries:
Watch full episodes of Romper's Doula Diaries on Facebook Watch.