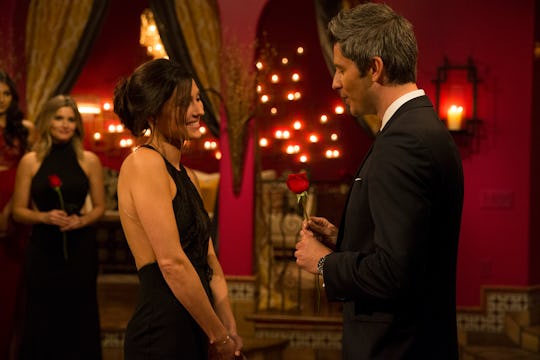 Paul Hebert/ABC
Becca Had An Extravagant Date With Arie On 'The Bachelor'
Arie is wasting no time starting to actually date his contestants. On Monday night's episode, Becca was the first to receive a one-on-one date, and it was extravagant, to say the least. So did Arie really buy Becca dresses and jewelry on The Bachelor? Not only did Rachel Zoe join them on the date to dress Becca in her clothes, but a man showed up with (probably thousands of dollars worth of) jewelry, courtesy of who else? Neil Lane.
Becca is the first contestant to get a lot of attention from Arie except for Chelsea, who won the first impression rose during The Bachelor premiere. Arie was immediately fascinated by Chelsea, who's a single mother living in Maine and working as a real estate executive assistant. She said she was a mystery, and didn't reveal much about her personality. Really, the only aspect of herself she revealed was that she just got her real estate license (so she and Arie have the same career). Furthermore, Chelsea had the most time with him; she went to speak with him twice, which caused some drama with the other women. Perhaps that's why Arie chose to go on the first one-on-one date with someone else: Becca.
This wasn't an ordinary first date. My idea of a first date is happy hour drinks and maybe food if I think I can manage being around this person more than an hour. Arie, though, had something different in mind. He invited designer and reality star in his own right, Rachel Zoe, to meet them at a Malibu mansion for Becca to try on her clothes. Rachel Zoe spoke to People about the fancy Bachelor date with Arie and Becca. "It was a lot of fun," Zoe told the outlet. "Arie was very sweet and was a perfect gentleman. I was surprised to see how interested he was in helping Becca pick an outfit, and he was very patient. … She tried a lot on!"
So it seems like Zoe is a big fan of Arie's, which is a good sign. She also said that he and Becca had pretty good chemistry. Additionally, Zoe told People that it was "hard to believe that they had just met." That's not all that happened on the date, though.
After Zoe was finished styling Becca (and packing it all up for her to take back to the Bachelor mansion), Arie and Becca were visited by a representative from Neil Lane — yes, that Neil Lane who supplies the engagement rings every season. This time, he didn't give Becca an engagement ring but rather necklaces and earrings chockfull of jewels. I looked at the prices for Neil Lane jewelry and trust me, one necklace is more than my net worth.
Anyway, seeing as this date costs probably more than an ABC production assistant's salary, did Arie really pay for all of this? I doubt it. It's unknown whether Neil Lane "donates" his jewelry or if ABC pays for it, but the contestants don't pay for the Bachelor engagement rings. It's also assumed that ABC pays for all the trips that the contestants go on during the season. So, I'd bet that Arie didn't expense any of the clothes or jewelry he gave Becca during their first date.
This is probably a good thing; I can't imagine how awkward it would be to drop thousands of dollars on a first date only to have it not work out in a few weeks. Not that this is the case with Becca — who knows at this point — but as Bachelor Nation knows, anything can happen on The Bachelor. Viewers will have to keep watching to see if Becca ends up with even more Neil Lane jewelry in the end.
Check out Romper's new video series, Romper's Doula Diaries:
Watch full episodes of Romper's Doula Diaries on Facebook Watch.