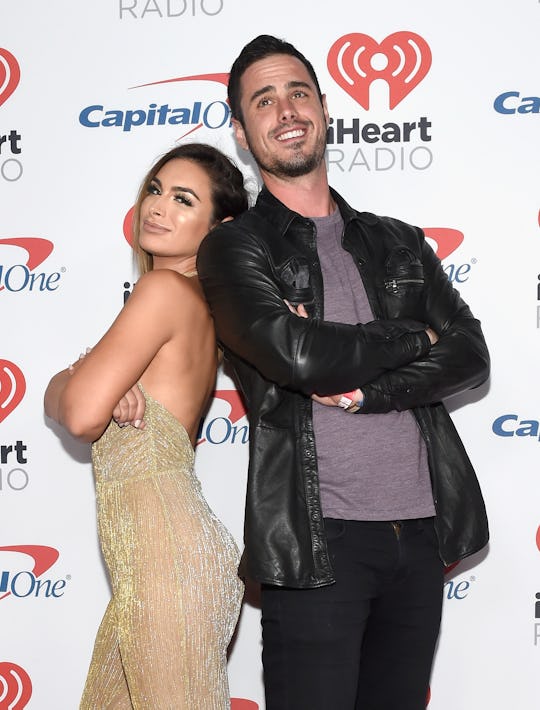 David Becker/Getty Images Entertainment/Getty Images
Ashley I. & Ben Higgins Were Close Long Before 'The Bachelor Winter Games'
Despite the oft-repeated phrase, "I'm not here to make friends," it often looks like veteran Bachelor contestants actually end up making more strong friendships than lasting romantic relationships. One such friendship is between two fan-favorite former contestants, Ashley I. and Ben Higgins. Now that they're both on The Bachelor Winter Games, people want to know did Ashley I. and Ben Higgins ever date? These Bachelor stars are close friends in real life, and Bachelor Nation totally ships them. Frankly, I would love it if the two of them got together, because they seem to have a genuine bond, though they both insist they are just good friends.
You'll recognize Ben from his time as the lead of The Bachelor, at the end of which he got engaged to Lauren Bushnell. The two then went on their own reality show, Ben and Lauren: Happily Ever After? before finally breaking up in May of 2017. Ashley I. made her debut on Chris Soules' season of The Bachelor, and then truly made a name for herself as the one who cries on two consecutive seasons of Bachelor in Paradise. Now that both of them are on Winter Games, objectively attractive, single, and with a great chemistry, everyone wants to know if they were ever together at some point in their long history.
They have known each other for two years, and during most of that time it would have been totally inappropriate for them to get together because Ben was still engaged to Lauren. Post-breakup, however, Ben and Ashley have clearly gotten to know each other better, as co-hosts of their popular podcast called The Ben and Ashley I. Almost Famous Podcast, in which the two of them banter like old friends and, dare I say it, almost flirtatiously?
Ashley I. is well known for her insecurity and her tendency to burst into tears, but on their podcast Ben is an amazing hype man for her. On a recent episode, he said that over the two years of their friendship, Ashley's crying on the first episode of The Bachelor Winter Games was the first time he'd seen her cry. He also called everyone's attention to a recent Instagram post of hers, in which he called her a "smoke show." He said she was "glowing" more than once. Aw, I ship it!
I would be extremely pleased if these two kids fell in love after all of this. And hey, the rumors have already started swirling — which Ben apparently likes to tease fans with.
Unfortunately, Ashley herself has already spilled the beans on whether or not she and Ben got together on Winter Games. In an interview with People, when asked if she'd ever date Ben, Ashley said definitively, "Not in Winter Games" though she added that two years ago she had a crush on him when he was the show's lead. "We are friend zoned. We friend zoned each other," she stated. So apparently they don't get together on the show, but I'm still not convinced there's not something there.
There's something to the chemistry between these two that makes me want to invent a whole adorable romantic history between them. She's always searching for love. He's recently heartbroken. They speak to each other all the time for their podcast where they talk about love and romance.
Perhaps one late night, after spending hours discussing falling in love and what each wants in a partner, their eyes meet and they see each other as they've never seen each other before, from one brown-haired smoke show to another. They suddenly realize after years of being a part of the Bachelor family they finally have found love. Fingers crossed.
Check out Romper's new video series, Romper's Doula Diaries:
Watch full episodes of Romper's Doula Diaries on Facebook Watch.