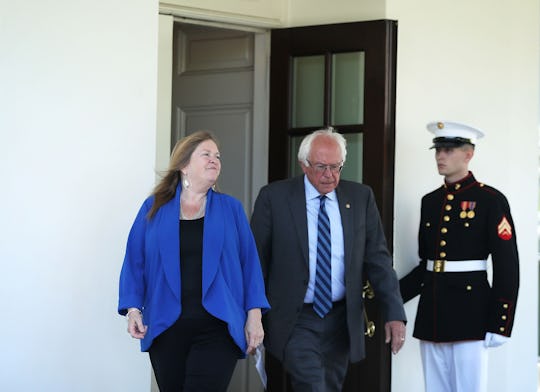 Alex Wong/Getty Images News/Getty Images
Did Bernie Sanders Know President Obama Would Endorse Hillary Clinton?
Following a headline-grabbing meeting with the president on Thursday, Democratic candidate and Vermont Sen. Bernie Sanders announced that he was ready to do whatever it took to prevent Republican candidate Donald Trump from taking the White House in November. Shortly thereafter, President Obama, in a video released by Hillary Clinton's camp, officially threw his weight behind the former Secretary of State, saying that he didn't think there had "ever been someone so qualified to hold [the] office." The long-awaited announcement was not completely unforeseen. But did Sanders actually know President Obama would endorse Clinton prior to his meeting on Thursday, or did it come out of left field?
"I'm not going to get into the details of their actions, but I guarantee you that Sen. Sanders was not surprised," said White House Press Secretary Josh Earnest, in a news conference on Thursday afternoon. "The video was recorded on Tuesday, and I think Secretary Clinton has announced that there will be an event [where they appear together] in Green Bay."
According to Earnest, "Sen. Sanders [had] certainly earned the right" to make the decision on his own, in his own time. He added that the president recognized that Sanders had run a respectable, hard-fought campaign.
Sanders had previously promised to take the primary battle all the way to the Democratic convention in July, but a slew of tough defeats in recent months threw that game plan into question. By the time the California primary had rolled around, it seemed the Sanders campaign was running on fumes.
Supporters' fears of a dropout announcement grew on Tuesday, after the Associated Press announced, out of the blue, that Clinton had officially secured enough delegates and pledged superdelegates to clinch the Democratic nomination. Sanders fought back, noting in an official statement,
It is unfortunate that the media, in a rush to judgment, are ignoring the Democratic National Committee's clear statement that it is wrong to count the votes of superdelegates before they actually vote at the convention this summer. Secretary Clinton does not have and will not have the requisite number of pledged delegates to secure the nomination. She will be dependent on superdelegates who do not vote until July 25 and who can change their minds between now and then.
However on Thursday morning, the Bernie Sanders that appeared at the White House lectern to speak on his sit-down with the president was not the fiery, revolutionist candidate that voters had grown accustomed to.
"Needless to say, I am going to do everything in my power, and I will work as hard as I can, to make sure that Donald Trump does not become president of the United States," Sanders said to reporters. "It is unbelievable to me, and I say this with all sincerity, that the Republicans have a candidate for president who, in the year 2016, makes bigotry and discrimination the cornerstone of his campaign ... I look forward to meeting with [Secretary Clinton] in the near future to see how we can work together to defeat Donald Trump and to create a government which represents all of us and not just the 1 percent."
Whatever Sanders decides to do next, supporters may, if nothing else, rest assured that he's not moving forward to the next fight alone.