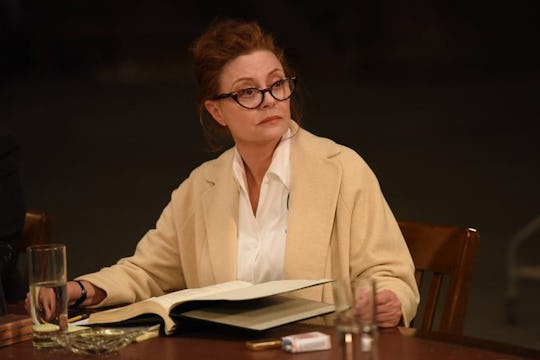 Prashant Gupta/FX
Bette Davis & Joan Crawford Aren't Done Feuding Yet
The inaugural season of Ryan Murphy's latest anthologized series for FX is coming to a close, but Feud: Bette & Joan has one last grapple left in it. After the arduous process of getting Whatever Happened to Baby Jane? greenlit, its unbelievably tumultuous filming in 1962, and the painful backstabbing of the 1963 Oscars, it seems tough to imagine anyone involved with the project would ever want to come back for more. So did Bette Davis and Joan Crawford ever work together again? As a matter of fact, they tried. And Robert Aldrich came along for the ride.
In 1964, trying desperately to ride the momentum of Baby Jane's unlikely commercial and critical success, Warner Bros. commissioned another project from Aldrich called Hush...Hush, Sweet Charlotte. It was based on a short story by the same author who wrote the Whatever Happened to Baby Jane? novel, and it also starred two older female characters. Davis and Joan were again slated to star as two women locked in a bitter feud on screen, and the idea was that everything that worked about Baby Jane would work again in this followup of sorts. Unfortunately, if unsurprisingly, it didn't come together as planned. Crawford would never get over her Oscar snub, which she perceived as being "upstaged" by Davis.
After a week and a half of filming, Crawford dropped out, feigning illnesses and forcing the production to stall out indefinitely. Aldrich even sent a private detective to track her movements in an effort to catch her in the act of faking sick. Warner Bros. demanded he either find a replacement or they'd shut down the film entirely. Eventually, he let the idea of a Davis/Crawford reunion go, and set about the work of finding a suitable replacement, which was easier said than done.
Vivien Leigh, Loretta Young, and Barbara Stanwyck were all pitched and all either turned down the part or were ruled out by Aldrich. It took four days of convincing on a remote resort in Switzerland, but he finally managed to convince Olivia de Havilland — Davis' friend and 1963 Oscar date, played by Catherine Zeta-Jones on Feud — to accept the role. She finished the movie and, predictably, Aldrich was hospitalized for exhaustion after filming wrapped. He had also directed a flopped Western in between Baby Jane and Hush...Hush, Sweet Charlotte called 4 for Texas, which starred Frank Sinatra, who proved to be more difficult to work with than Crawford and Davis combined.
Crawford and Davis would never work on another film together and neither would ever go on to be nominated for another Academy Award.