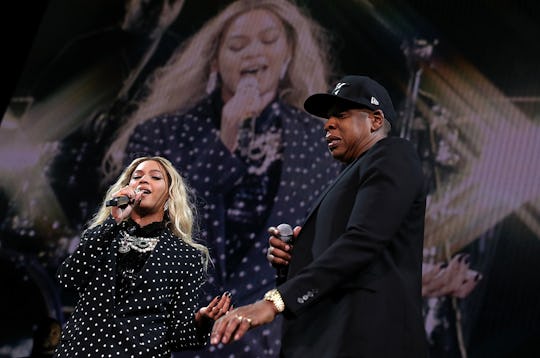 Justin Sullivan/Getty Images News/Getty Images
Beyonce's Pregnancy Decisions Are Not Our Business
In what is honestly the best news of 2017 thus far, Beyoncé has announced that she and husband Jay Z are expecting again — this time, though, the couple are having twins, and fans are twice as excited. Wednesday afternoon, the pop diva and all-around goddess took to her Instagram to share a flawless maternity picture and share the good news with the world. And while we're all obviously excited for the growing family, the news of twins has many fans wondering, did Beyoncé do IVF?
Let's put it this way: Frankly, it's none of our business.
While Beyonce isn't really what anyone would call "old" (she's 35), the singer and role model has shared her struggles with fertility in the past, opening up about a miscarriage she had before giving birth to Blue Ivy in 2012. This, of course, lead many to wonder if the couple underwent in vitro treatments in order to conceive Blue.
And now, with the announcement that the couple is expecting twins this year, the question of whether or not Beyonce did IVF is surfacing once again. Because many couples who decide to get IVF are passionate about wanting kids, they often don't think twice about the high possibility of getting pregnant with twins though the procedure. IVF treatments usually include the implanting of multiple embryos, meaning a greater chance of twins, triplets, or more.
To the surprise of no one, reports of Beyoncé undergoing multiple rounds of IVF, then, have flooded the internet for years following her birth of Blue Ivy, some even pointing to the child's middle name as a nod to the procedure. Of course, these are all speculation, and all we can really conclude is that, unless the pair decides to open up with their story, then their private life will (and should) remain private.
Because while many celebrity couples, such as Chrissy Teigen and John Legend, have been very vocal about their struggles with fertility, as any woman knows, the issue can be a painful one to talk about.
Again, it really isn't any of our business. Yes, we all love Beyoncé, and yes, she's pretty much the perfect human, but she (and her family) still deserve privacy, especially when it comes to potentially emotional issues.
So, just relax and be happy, knowing that in 2017, there will be two more lifeforms carrying Beyoncé's DNA in the world, and really, that's all we could hope for.
Congrats, Bey. Keep on being the flawless mom you already are.