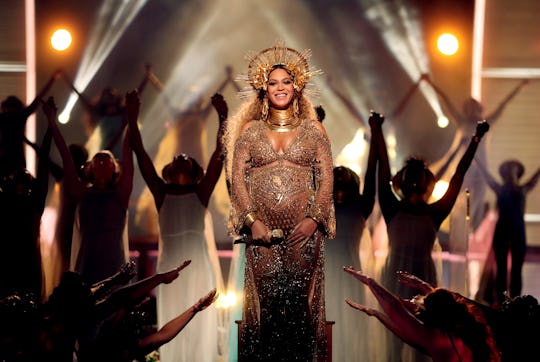 Christopher Polk/Getty Images Entertainment/Getty Images
Did Beyoncé Have A C-Section?
Major congratulations are in order for Beyoncé and Jay Z. Over the weekend, Us Weekly and a number of other outlets reported that the power couple had finally welcomed two new additions to their family. Ever since the singer announced her pregnancy on Instagram in February, the Beyhive has been anticipating the Carter twins' birth with much excitement. Now that the twins have reportedly arrived, though, many people are beginning to speculate about the details of Beyoncé's birth. One of the biggest questions seems to be whether Beyoncé had a c-section or delivered her babies naturally. While Beyoncé did confirm that she delivered her first child naturally back in 2012, it turns out that the cesarean procedure is actually pretty common for twin births — so it wouldn't be a surprise if the singer did have one herself.
C-sections are definitely more common for those carrying twins, however, that doesn't mean it's always necessary. Robyn Horsager-Boehrer, MD, a professor of obstetrics and gynecology at UT Southwestern Medical Center, spoke with People about the reality of birthing twins. According to Horsager-Boehrer, doctors will try to "encourage women to try for a vaginal birth if both babies are positioned head-down." She went on to say that mothers tend to be at "the whim of what position the first twin is in." If either of the babies are breech, though, doctors might be forced to to perform an emergency c-section, she explained.
Beyoncé is certainly under no obligation to share the details of her delivery with the public, however, she did open up about her daughter's natural birth to Vogue. Before giving birth to Blue Ivy, it was widely speculated that Beyoncé had scheduled an elective c-section. Afterwards, though, Beyoncé and Jay Z released a statement stating Blue was delivered naturally at a healthy 7 pounds.
Despite having some fears heading into the birth, Beyoncé said having her loved ones in the room with her helped assuage those worries. "My family and my closest people were there when I gave birth," she said. "Everything that scared me just was not present in that room."
Beyoncé also opened up about the connection she felt with her daughter during labor. "I had a very strong connection with my child. I felt like when I was having contractions, I envisioned my child pushing through a very heavy door," she described to Vogue. "And I imagined this tiny infant doing all the work, so I couldn't think about my own pain. We were talking. I know it sounds crazy, but I felt a communication."
Whether Beyoncé did have a c-section or was able to deliver her twins naturally, fans can only hope her birthing experience was as powerful this time around as it was with her first child. Congratulations again to Beyoncé, Jay Z, and Blue Ivy on the newest additions to their adorable family.