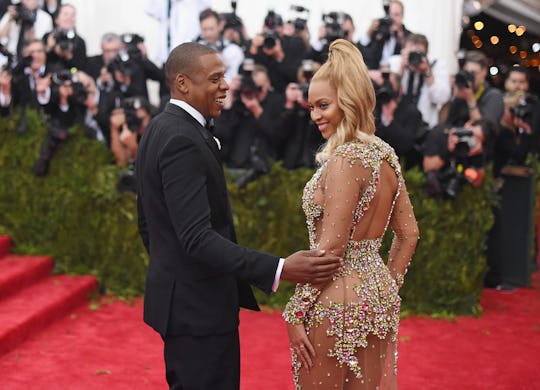 Mike Coppola/Getty Images Entertainment/Getty Images
Did Beyonce & Jay Z Attend The Met Gala Together? Beyonce Showed Up Looking Fierce
The Met Gala is one of the most exclusive events of the year — if not the most exclusive — so of course, everyone was waiting on Monday night for the Queen and King of pop and fashion, Beyoncé and Jay Z, to walk the red carpet in New York City together. The event would have been their first very public appearance since the release of the singer's world-stopping new album Lemonade, but curiously, Beyoncé and Jay did not attend the Met Gala together on Monday night, stirring up rumors of marital strife once again. Beyoncé has long ruled the Met Gala's red carpet over the years, but tonight she was (not recklessly) rocking a Givenchy embellished blush-colored latex gown, bedecked with plenty of baubles, in line with the night's theme of the exhibition, Manus x Machina: Fashion in the Age of Technology. The one accessory noticeably absent? Husband Jay Z.
Although Beyoncé is currently on her Formation tour, she hasn't missed a Met Gala in years. For a minute, it wasn't even clear if she was slated to attend, but after canceling a show in Nashville because of construction on the stadium, the star was able to return to New York City for the big night. Earlier on Monday, André Leon Talley, Vogue's former editor-at-large, told The Skimm that he was "looking forward to [seeing] Beyoncé" at the event.
It's not just fashion's biggest night out though. The Met Gala is really a charity event for the Metropolitan of Art's Costume Institute. Tickets go for $30,000 apiece, and tables are $275,000, according to The New York Times, but the hosts of the event, namely Anna Wintour, have final say over the guest list. One could theoretically refinance their home for a ticket, but if you aren't in — according the The Times — you just cannot be there.
But even given the recent rumors surrounding Beyoncé and Jay (more specifically, the infidelity chatter that was sparked by Beyoncé's new album Lemonade), Beyoncé still managed to make the glam guest list anyway. Whether Jay simply chose to stay home or wasn't invited (which, even with all things considered, would have been strange) wasn't immediately clear.
The red carpet is the only portion of the night available for us civilians, though. After they strut their stuff, celebs are taken on a tour of the exhibition and then sit down to dinner. Usually, there's a performance by someone big. According to gossip sites, Beyoncé was supposed to perform after Monday's dinner, but given the controversy surrounding Lemonade — and the incident at the Met Gala in 2014 when Solange freaked on Jay Z for talking to an alleged "Becky with the good hair" — it may have seemed a little gauche for the organizers to make her stand up and sing.
All drama aside though, Beyoncé definitely killed it tonight, sans Jay. What else did you expect?