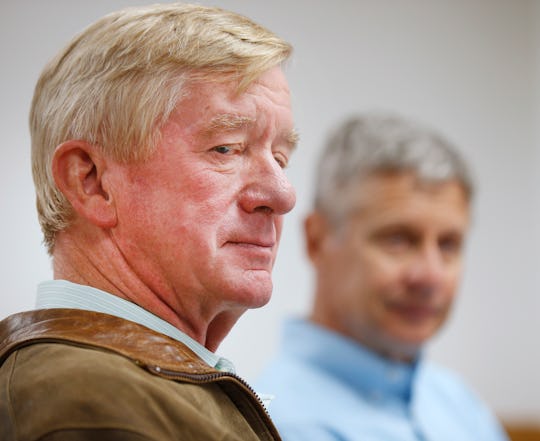 George Frey/Getty Images News/Getty Images
Did Bill Weld Just Endorse Hillary Clinton? It Sure Sounded Like It
In an unprecedented move, Libertarian vice-presidential nominee Bill Weld issued a statement on Tuesday to any voters split between the two major party candidates: Republican nominee Donald Trump and Democratic candidate Hillary Clinton. While he didn't mention her name once throughout his statement, he strongly urged voters not to cast their ballot for Trump on Election Day. But wait, does this mean Bill Weld is endorsing Hillary Clinton?
Not quite, but Weld's statement seemed like a solid acknowledgement that he and his running mate, Libertarian presidential candidate Gary Johnson, won't be winning the election. Lamenting — but acknowledging — the country's two-party monopoly, Weld spoke up against one of the two major players in the race, writing,
I would like to address myself to all those in the electorate who remain torn between two so-called major party candidates whom they cannot enthusiastically support. ... In the final days of this very close race, every citizen must be aware of the power and responsibility of each individual vote. This is not the time to cast a jocular or feel-good vote for a man whom you may have briefly found entertaining. Donald Trump should not, cannot, and must not be elected President of the United States.
He refrained from actually endorsing Clinton, but by speaking to those trying to decide between her and Trump — and then tearing Trump down in a spectacular manner — he was effectively urging people to vote for Clinton. And this isn't Weld's first hat tip to Clinton, either: In September, he said he was "not sure anybody is more qualified than Hillary Clinton to be president of the United States," according to CNN. (I'm sure that comment stung Johnson a little bit, but hey, I respect him for being honest.)
On Oct. 4, Weld also told The Boston Globe that his main focus over the coming weeks would be to take down Trump. Hinting that he may leave the Libertarian party eventually (although not this year), Weld said Trump has his "full attention." Since then, he's been focusing on "trying to get the Donald into third place."
"I hope that this election cycle will secure for the Libertarian Party a permanent place in our national political dialogue," Weld said in his statement, all but forfeiting the election. Explaining why he was switching tack, he explained, "I would not have stepped out of the swirl of the campaign to make this statement if I did not fear for our country, as I do."
However, Weld said, "A serious candidate for the Presidency of the United States must be stable, and Donald Trump is not stable." In other words, Weld does want you to vote for him. But he knows that, thanks to a two-party system and some of Johnson's recent slip-ups, most people aren't going to do that — so he's just just low-key supporting Clinton via process of elimination.