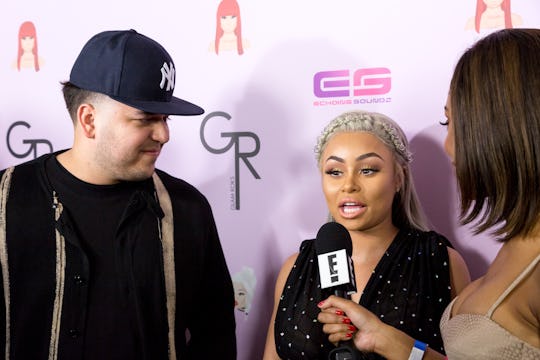 Greg Doherty/Getty Images Entertainment/Getty Images
Did Blac Chyna & Rob Kardashian Break Up? Rob's Instagram Is Missing Something
Rob Kardashian and Blac Chyna are hardly known for their social media discretion, so it's a little unnerving to fans that Kardashian recently deleted every photo of Chyna from his account. Chyna hasn't posted any new photos (about her pregnancy or upcoming marriage to Kardashian) to Instagram in nearly a month. The radio silence is leading fans to wonder: did Blac Chyna and Rob Kardashian break up? Something is definitely up.
To be clear, Kardashian didn't just delete photos of Chyna from his Instagram account; he deleted all the photos from his account except one dated snap of himself. It's all just gone. Chyna's Instagram feed is similarly devoid of updates about the couple. For anyone else, that move toward privacy might be fine, but for them, it seems very odd. The two have had a very public relationship, captured, thanks to Keeping Up With The Kardashians, on reality television. Not only that, but Chyna had a very openly tense relationship with Kardashian's family, which was only exacerbated with Kardashian proposed and it was announced that Chyna was pregnant with their first child together.
Not only that, but according to People, the two are slated to have their own reality T.V. show after they tie the knot to capture the ups and downs of their growing family. From tracking Kardashian's weight loss on Instagram, to capturing intimate moments of their daily lives on Snapchat, the two have been very active on all of their social media channels up till this point. To say that their brief relationship has been a rollercoaster ride, played out for the public is no exaggeration.
Though Chyna is absent from Kardashian's now-empty Instagram, he still appears in the archives of hers. She has been pulling away from the media spotlight all month, but there has been no indication from her that there are any problems with the relationship. Perhaps no news is good news. Kardashian has been known to go through social media binges and purges, and this may be just another purge. In the past, he's wiped whole accounts and deleted and reinstated Instagrams. It may be that this is just another way for him to start over and begin a new chapter as a good husband and loving father.
That would certainly be supported by the signs his family has given. When interviewed recently, Kim Kardashian told E! News that Chyna is having a good pregnancy and the family is over the moon to welcome their new member. She gave no hint of a break up or even trouble. Fans are hoping that's the case. What seems more likely than a breakup is that they have already begun developing and filming their show and want to keep everything under wraps before it makes its premier.