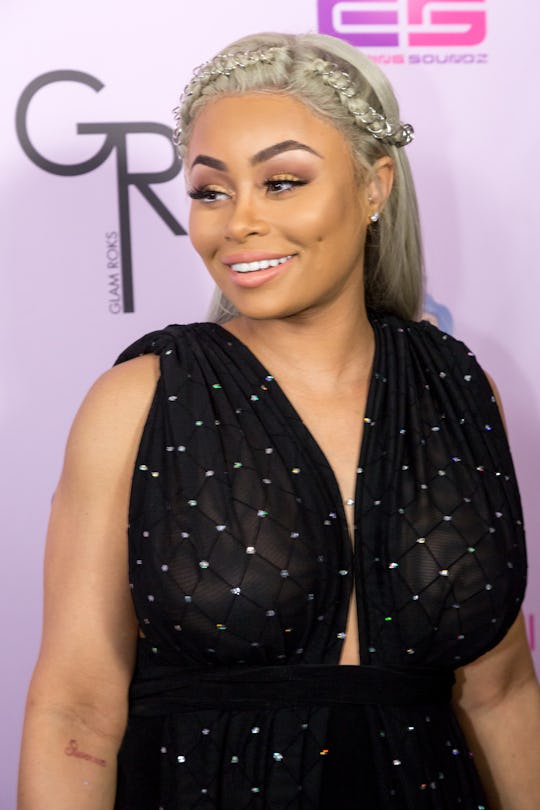 Greg Doherty/Getty Images Entertainment/Getty Images
Did Blac Chyna Tweet Rob Kardashian's Real Number? There's A Lot Going On
It has been an eventful week for the Kardashian-Jenner-Chyna clan, to the say the least. Fans of Rob Kardashian and Blac Chyna, or their new E! show Rob & Chyna, have likely been scratching their heads trying to figure out what is going on with the couple expecting a baby. On Monday Kardashian tweeted out what appeared to be his sister Kylie Jenner's cell phone number. But did Chyna tweet Kardashian's real number? Clearly, there's a lot going on right now.
In case you haven't been following or "Keeping up" with lives of the Kardashian-Jenner-Chyna family, here's a quick refresher: Chyna was engaged and has a child, King Cairo, with rapper Tyga. Tyga and Chyna broke up, and Tyga started dating (the timeline gets a bit complicated) Jenner, which also seemingly made Chyna and Kim Kardashian's friendship a bit complicated too. But of course, the next shocker came when Chyna and Rob Kardashian revealed they were in a relationship, which later turned into an engagement and pregnancy.
And although recent episodes of Rob & Chyna, and Keeping up with the Kardashians led fans to believe that the whole crew had somewhat worked out their tangled connections, Rob Kardashian's recent tweets suggested trouble in paradise.
"Didn't invite the Mother of my child to a baby shower you all were trying to throw for me?" he wrote on Twitter on Monday. "You all must have lost your damn minds... "
Rob Kardashian also tweeted what he reported to be his younger sister's number. So when Chyna tweeted what she said was Rob Kardashian's number late Thursday night, their fans and Twitter followers got a bit of déjà vu.
Unsurprisingly, Chyna's Twitter mentions revealed that a number of her Twitter followers did indeed try their luck reaching Rob Kardashian.
But is that really Rob Kardashian's number? Well, according to Chyna's Snapchat, that was indeed her fiancé's number – but she said she released it for a reason that may surprise you. Romper reached out to a representative for Chyna but did not immediately hear back.
In case you were thinking Chyna tweeted his number out as some sort of retaliation following reports earlier this week that the couple had broken up, think again. According to Chyna, it was only a measure to deter other women from texting Rob Kardashian.
"To ensure that your man is not texting no b*tches, just tweet his number out," Chyna said on Snapchat as Rob Kardashian (seemingly in good spirits) stood nearby. "How does that feel Rob? How you feel?"
As for their relationship Chyna added: "we good, we good, we good... we straight."
Well there you have it, whether it is or was Kardashian's real number, the Chyna-Kardashian duo maintain that they are all good.