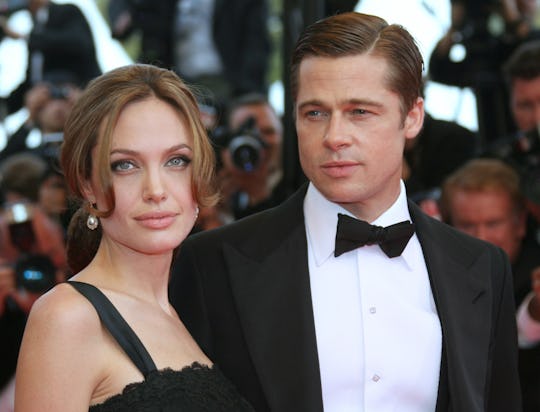 VALERY HACHE/AFP/Getty Images
Did Brad Pitt Adopt Maddox Jolie-Pitt? Angelina Was Once A Single Parent
News of Angelina Jolie and Brad Pitt's divorce broke on Tuesday, with the rumored cause being disagreement over the parenting of the couple's six children. But the family didn't take the traditional route of marriage, then children. In fact, the pair didn't wed until 2014, when their youngest children were 6 years old, and the oldest, Maddox Jolie-Pitt, wasn't originally adopted by Brad Pitt. Jolie originally began the process to adopt Maddox from Cambodia in 2001, when she was married to Billy Bob Thornton. The couple announced in 2002 that they were waiting on approval from the U.S. government to bring the infant home, but shortly after taking custody of the child, the couple filed for divorce. According to People, although the couple had announced that they were adopting Maddox together, Thornton's name was never on the paperwork, and Jolie raised Maddox alone.
Jolie and Pitt met in 2004 while filming Mr. & Mrs. Smith, and although they admit that they fell in love while filming, it wasn't until the summer of 2005, a few months after Pitt divorced Jennifer Aniston, that the two went public with their relationship. In July of that year, Jolie adopted her second child, a daughter named Zahara, from Ethiopia. By the end of the year, Jolie filed a petition to legally change her children's last name to Jolie-Pitt, and Pitt began the process of adopting them.
In January 2006, People confirmed that Jolie was pregnant with the couple's third child, and media scrutiny was so intense, the family temporarily moved to Namibia to await the birth of Shiloh in May. The BBC reported that the Namibian government helped shield the Jolie-Pitts from reporters and photographers by denying entry to the country, even resorting to arrest and deportation of those who hounded the famous family.
In November 2006, Pitt and Jolie traveled to Vietnam where they met the 3-year-old who would eventually become Pax Thein Jolie-Pitt when Jolie adopted him the following March. According to Time, Vietnamese adoption regulations prohibited unmarried couples from adopting together, so Jolie initially adopted Pax as a single parent. As with Maddox and Zahara, Jolie petitioned to change Pax's last name to Jolie-Pitt once they returned to the United States, and Pitt later adopted him. In July 2008, Jolie gave birth to the couple's fifth and six children, Knox Leon and Vivienne Marcheline, in France. The couple finally wed in 2014.
It was reported last year that Maddox plans to join his mother behind the scenes in Cambodia as she directs the Netflix film adaptation of Loung Ung's 2000 memoir, First They Killed My Father: A Daughter of Cambodia Remembers. It looks like the rest of the kids might now be joining them.