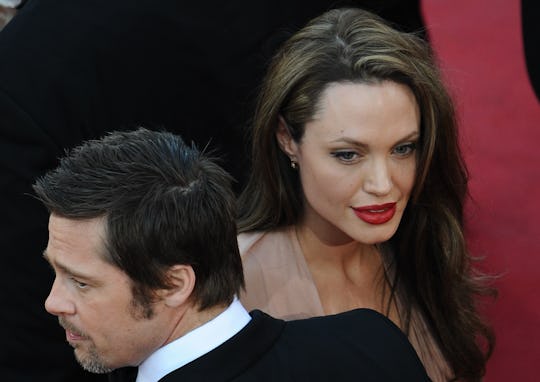 MARTIN BUREAU/AFP/Getty Images
Did Brad Pitt-Marion Cotillard Rumors Lead To His Divorce With Angelina Jolie? Think Again
When tragedy strikes, it's just basic human instinct to look for someone to blame. But before you start raving that all the Brad Pitt and Mario Cotillard rumors led to his divorce with Angelina Jolie, it's advisable to take a big, deep, Rachel Green-type breath and consider the facts. Pitt is starring with Cotillard in a major World War II themed film called Allied, so there are certainly pictures of them interacting with each other during filming.
A source told the New York Post's Page Six that Jolie hired a "private eye" because she felt her husband "was fooling around with [Cotillard] on the set, and it turns out, he was. And that was the final straw." But People, which probably has a little more insight into the world of Hollywood celeb drama than the Manhattan-based tabloid, says its sources dispute that claim.
Because that's like saying that every time a co-worker insists on accompanying you to the salad joint on the corner during your highly anticipated lunch break, someone sent pictures of you both waiting for a kale salad to all of your Instagram followers, implying it was true love.
Nothing to see here, folks, just two people doing their jobs.
The movie is a spy movie and Cottilard and Pitt's chemistry on set has been described as "electric" by the movie's producers. So comparisons to Pitt and Jolie in Mr. and Mrs. Smith getting together while he was still married to Jennifer Aniston in 2004 are bound to be made. But that's almost too easy.
Instead, it sounds like the Jolie-Pitt split might be a little more complicated than that. Jolie filed for divorce citing irreconcilable differences and asked for no spousal support. Most telling is that she asked for sole custody of their six children, granting Pitt visitation rights and some legal custody but nothing else. According to TMZ, Jolie had allegedly been "fed up" with Pitt's parenting style. Us Weekly reported that really, the couple just wasn't getting along very well anymore and decided that an "amicable" split was better for everyone.
But Jolie also asked for some other things in the divorce papers. According to Us Weekly, she asked for "miscellaneous jewelry and other personal effects," along with some property assets. That's also pretty standard for someone like Jolie, with assets of her own and a good attorney, to include in divorce papers.
The Daily Mail reports that Cotillard is "'absolutely devastated" that her name has been brought up in the media or that there's any speculation about her and Pitt's working relationship. She's been dating Guillaume Canet and she also has a 5-year-old son. Even a celebrity hound should sense that that's not a real recipe for messing around.
In separate statements this week, both Jolie's camp and Pitt commented on their divorce briefly, before each asking for privacy. "This decision was made for the health of the family," attorney Robert Offer said on behalf of Jolie. "She will not be commenting, and asks that the family be given its privacy at this time."
In a statement of his own to People, Pitt reiterated,
I am very saddened by this, but what matters most now is the well being of our kids. I kindly ask the press to give them the space they deserve during this challenging time.
At a time like this for the Jolie-Pitt family, it's probably best to err on the side of caution before spreading any new rumors about what happened to their marriage. Even if it's tempting.