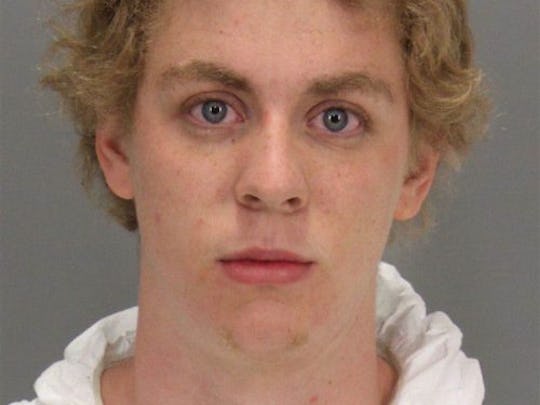 Santa Clara County Sheriff's Office
Did Brock Turner's Mother Give A Statement? Carleen Turner Plead Her Son's Case
Brock Turner, the former Stanford swimmer who raped an unconscious girl behind a dumpster last January, was sentenced to six months in prison last week. The light sentencing sparked outrage around the country, contributing to what some say is an endemic rape culture that places the blame on the victim. An unapologetic letter from Turner's father, who said his son paid a steep price for "20 minutes of action," further enraged critics, who say Turner received a lighter sentencing because of his race and Ivy League credentials. Clearly Turner's father does not understand the gravity of his son's actions, but did Brock Turner's mother give a statement?
She did write a letter to the judge, along a dozen other family members and friends, asking for him to go easy on Turner. The letters describe Turner as an inherently good kid who got caught up in a party school atmosphere. They go into detail about how difficult the past few months have been for him and, what's even worse, they blame the victim and Stanford's party culture for the rape.
These tone-deaf letters do not talk about how Turner's rape affected his victim. Instead, they argue that Turner has been so damaged by the media coverage of his rape, that he does not deserve to go to jail at all.
"I beg of you, please don't send him to jail/prison. Look at him. He won't survive it," Carleen Turner, Brock's mother, wrote in her letter, according to The Guardian. "He will be damaged forever and I fear he would be a major target. Stanford boy, college kid, college athlete — all the publicity. This would be a death sentence for him."
Carleen describes her son as a "shy and awkward 19-year-old, far away from home trying to fit in with the swimmers he idolized." She says Turner is terrified and traumatized by the jury's rule against him. She goes on to argue that registering as a sex offender is enough punishment for Turner and that he had already lost two jobs because of the trial's publicity.
"Having lost everything he has ever worked for his entire life and knowing the registry is a requirement for the rest of his life certainly is more than harsh. His dreams have been shattered by this," she writes.
Turner's mother was not the only one to defend his actions. Leslie Rasmussen, a childhood friend also claimed that Turner was not a rapist.
"[People drinking too much at a party school] is completely different from a woman getting kidnapped and raped as she is walking to her car in a parking lot," she writes. "That is a rapist. These are not rapists. These are idiot boys and girls having too much to drink and not being aware of their surroundings and having clouded judgement."
Both Carleen Turner and Leslie Rasmussen likely meant well with their letters to the judge. However, Brock Turner himself was found unequivocally guilty of sexual assault, despite their pleas. All parties would do well to accept this fact head on and consider the victim from here on out.