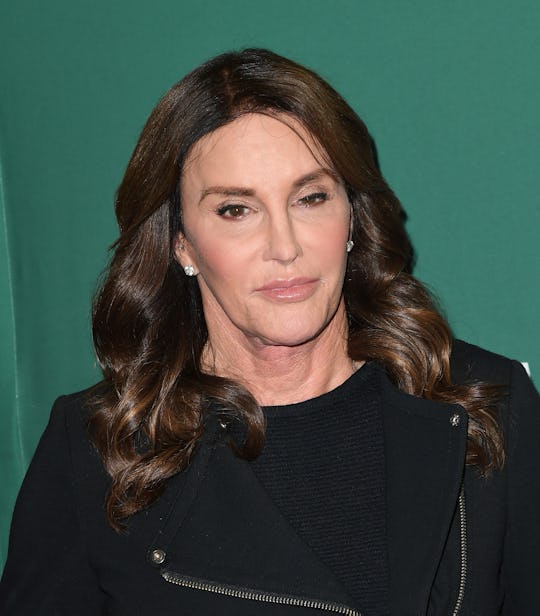 ANGELA WEISS/AFP/Getty Images
Wait, Did Caitlyn Jenner Just Confirm Kylie's Pregnancy?
On Monday, The Sun reported that Caitlyn Jenner's representatives confirmed Kylie Jenner's alleged pregnancy. According to the publication, Caitlyn's reps supposedly revealed that she was told about the news "some time ago," a claim that sent the internet into another spiral of speculation and excitement. So, did Caitlyn Jenner just confirm Kylie Jenner's pregnancy?
Unfortunately for all the diehard Keeping Up With Kardashian fans out there (or for all the people who just want this story to be done with), Caitlyn did not confirm Kylie's pregnancy. In response to the confirmation rumors, a rep for Caitlyn tells Romper in an email, "None of this is true. Thank you."
Yep, rumors about Kylie's possible pregnancy are literally the song that never ends — is anyone else having Lamb Chop flashbacks, or is just me? Anyways, there are only two explanations to the confusing headlines and conflicting reports throughout the past few days — either the Jenner-Kardashian families are trying to keep the news private until the moment is right, or Kylie isn't pregnant. No matter what theory you're on board with, I think most people can agree that the family has to have an emergency pow-wow to get their stories straight.
On Saturday, Kris Jenner gave the most confusing answer ever when asked about Kylie's supposed pregnancy. Kris said, according to The Cut:
I just woke up this morning. She's not confirmed anything. I think it's kind of wild that everyone is assuming that that's just happening. Something happens every single day. You never know what is going to happen at any given moment.
Umm ... does anyone have a Kris translator on hand? This answer is the most confusing answer possible — how can something happen and not happen at the same time?
On another mind-boggling note, Kris' BFF, Faye Resnick, told Us Weekly on Monday:
I can believe it. They blow up the internet for everything. I mean, this is huge — if it's true.
If it's true. These mind games are just too much for a Monday, right?
Although it's unlikely the Kardashians/Jenners will give the internet a definitive "yes" or "no" anytime soon, sources have come forward to give insight on how Kylie's parents are allegedly feeling about the mysterious pregnancy.
Caitlyn is allegedly not happy about Kylie's baby news, according to a source who spoke with Hollywood Life:
Caitlyn was really shocked and disappointed to learn that Kylie is pregnant. She thinks Kylie is way too young to have a baby, and that she should have waited until she was in a long term committed relationship. Obviously, Kylie has more than enough money to ensure that she can pay for help, but Caitlyn still thinks that having a baby will take a huge toll on Kylie's life. Caitlyn would have liked for Kylie to wait 'til she was in her thirties, but Kylie has always wanted to be a young mom, and she's crazy in love with Travis Scott, so she didn't want to wait any longer. Caitlyn is concerned that Kylie and Travis really haven't been dating very long, and that a baby will put a big strain on their relationship, but Kylie believes the exact opposite—that she and Travis will be together forever.
As it has been noted before, there are issues with bringing up Kylie's age in the discussion about her possible pregnancy. Although Caitlyn has the right to be concerned as a parent, hopefully she would have a private discussion with Kylie about any worries she may have, and ultimately respect Kylie's decisions. Again, it's important to point out that the above quote from a "source" hasn't been confirmed by Caitlyn's rep, and it's unclear who the source is.
As for Kris' thoughts, she's allegedly worried about how Kylie's pregnancy will play into her $240 million business empire. A source explained, according to People:
Kris is just trying to control what she can and make sure no one forgets Kylie is also a businesswoman. She wants to set Kylie Cosmetics up to sell.
Well, one can only hope that people won't diminish Kylie's accomplishments if she is in fact pregnant.
The supposed insider added:
Kylie has worked so hard to build that empire. Kris doesn't want to see the pregnancy affect how that is perceived Of course, Kris will support Kylie being a mom. But she is still adjusting to the surprise news.
Obviously, all of these quotes and "confirmations" mean nothing until one of Kylie's family members, or Kylie herself, speaks out. Until then, Kylie deserves the upmost privacy and respect.
Watch Romper's new video series, Romper's Doula Diaries:
Check out the entire Romper's Doula Diaries series and other videos on Facebook and the Bustle app across Apple TV, Roku, and Amazon Fire TV.