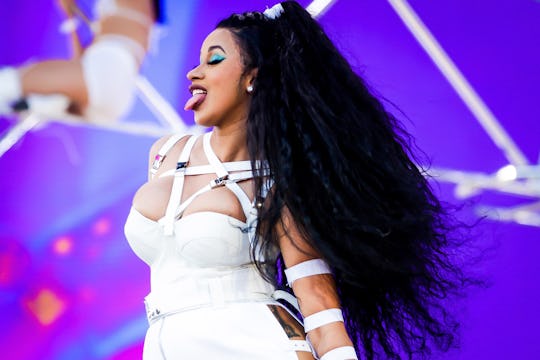 Rich Fury/Getty Images Entertainment/Getty Images
Fans Can't Wait To See Pics Of Cardi B's Daughter
Praise be — Cardi B that is. The iconic rapper announced on her Instagram on Wednesday that she had given birth and fans are obviously overjoyed. So did Cardi B post a picture of her daughter? People can't wait to see Cardi's baby girl, but it looks like they're going to have to wait a little while longer. This should hardly be new for Cardi B fans. After all, just think of how long it took for her to announce her pregnancy at all. I wouldn't be surprised if Cardi B didn't post a picture of her daughter until the little girl was around ten years old. Even celebrity kids are entitled to their privacy you know.
Cardi B announced the arrival of her daughter, Kulture Kiari Cephus in an Instagram post with a glorious pregnancy photo that could give Beyoncé envy (do not @ me). While Cardi looks like a legitimate Earth Mother Goddess in the photo — surrounded by colorful flowers with natural hair free in all of its glory — fans can't help but be just a tad disappointed that there is no photo of an actual baby in the announcement. Cardi accompanied the picture with a simple caption just reading Kulture's name and birthdate, 7/10/18.
The thing is, if you have been following this pregnancy at all, you should not be in the least surprised that Cardi B has chosen not to share a picture of her baby just yet. For an extraordinarily famous person, Cardi is actually pretty private. Think about the pregnancy announcement itself, for example. Rumors swirled left and right about her possible pregnancy for months before she confirmed them, which Cardi mostly laughed off (and gave us the iconic line, "let me fat in peace"). When she finally did confirm her pregnancy it was on her own terms — during a live performance on Saturday Night Live of course.
Make no mistake, Cardi B is serious about her privacy. Her recently released album, for example, is literally titled Invasion of Privacy. She told SiriusXM in an interview, "When I was doing my album these past couple of months, my privacy has been invaded the most. I feel like I give people a lot and people still want more. When it comes to my pregnancy, I had people harassing me, stalking me. If it's not something about me, it's something about my man."
I mean, think back to her relationship with Offset itself. Everyone knew that the couple was engaged — until they revealed that they had actually been married for months. My point, everyone, is that Cardi B will reveal pictures of her daughter when she's good and ready and not a moment before. If history has taught fans of Cardi anything it's that she will reveal details of her life on her own terms and she is not going to let any kind of rumors bother her. Though there is a good chance she'll call you out for some silliness on social media if she catches you.
Then again, maybe baby Kulture is just a little shy. Cardi joked on Twitter that she doesn't have any good sonograms of her because she's always hiding her face.
The point is that fans don't get to know until Cardi B and Offset decide to share pics of their daughter with the world. Maybe this will be tomorrow. Maybe it will be at Kulture's high school graduation. Who actually knows. In the meantime, let's let the new mama be a mama in peace. After all the music and inspiration she's given us as fans, we can give her this much.