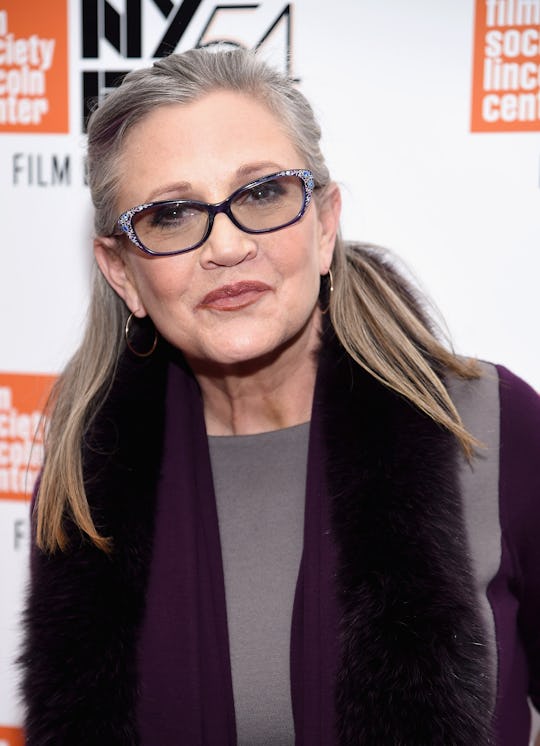 Dimitrios Kambouris/Getty Images Entertainment/Getty Images
Carrie Fisher Was A Wonderful Mother
After being rushed to a hospital on Dec. 23 after going into cardiac arrest, Carrie Fisher died on Dec. 27. While many fans are already mourning her death, many are also sending their well wishes to her family and wondering: did Carrie Fisher have kids? The actress is survived by her only child, Bille Catherine Lourd, who is also an actress, best known for her role as Chanel Number Three in Scream Queens.
According to People, the family's spokesman Simon Halls released a statement about Fisher's passing on behalf of Lourd. "It is with a very deep sadness that Billie Lourd confirms that her beloved mother Carrie Fisher passed away at 8:55 this morning," the statement read. "She was loved by the world and she will be missed profoundly. Our entire family thanks you for your thoughts and prayers."
Fisher was best known for her role as Princess Leia in the Star Wars films and even reprised her role in the latest movie, The Force Awakens, which came out last December and reunited her with most of the original cast. Lourd had the opportunity to work alongside her mother in the film, making her first appearance in the franchise as Lieutenant Connix. Lourd is set to reprise her role in Episode VIII, which is due out in 2017, and her mother was also meant to reprise her role in the film, but it's unclear if that will now be possible with her passing.
Fisher and Lourd were obviously close and no one was more supportive of Lourd's success than Fisher herself. In fact, everyone could see just how much Lourd loved her mom, which makes her untimely passing even more upsetting than it already is. Some even speculated the reason Lourd's character on Scream Queens always wears earmuffs was meant to serve as a homage to Princess Leia's iconic hair buns, however, that has never been confirmed.
Just as Fisher, who's mother is the famed actress Debbie Reynolds, grew up in the world of movie and television, so did Lourd and it's already clear that she's learned so much from her mom.
The passing of Fisher is absolutely devastating and my heart goes out to Lourd and the rest of Fisher's family as they go through this trying time. She will be greatly missed, but never forgotten for all of her wonderful contributions to entertainment and the world as a whole.