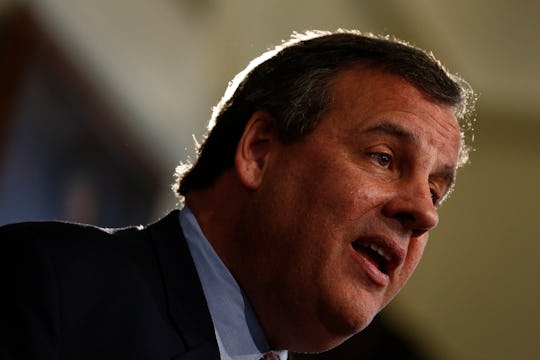 Jeff Zelevansky/Getty Images News/Getty Images
Did Chris Christie Know About Bridgegate Closures? Prosecutors Claim He Did
After three years and a lengthy federal investigation along with one guilty plea, the corruption trial over the George Washington Bridge scandal, now known as Bridgegate, began on Monday. Prosecutors say the scheme was allegedly created as a form of "political payback," whereby state officials closed lanes on one of the busiest bridges in the world, which led to days of gridlock of the neighboring city in Fort Lee, New Jersey beginning on Sept. 9, 2013. Prosecutors have also alleged that political appointees of New Jersey Gov. Chris Christie intentionally created traffic jams to punish the mayor of Fort Lee for not endorsing the state's governor for re-election. But, did Chris Christie know about the Bridgegate closures? Prosecutors are now claiming he allegedly knew about the traffic problems, although he has long denied having any involvement in the closures.
According to CNN, U.S. Attorney Vikas Khanna said that David Wildstein — one of Christie's former advisors and senior official at the Port Authority — told the New Jersey governor about the plan to close lanes on the heavily commuted bi-level bridge that spans over the Hudson River between Manhattan and New Jersey, knowing that it would cause the traffic headache in Fort Lee, where Mayor Mark Sokolich, reportedly a political rival of Christie, was located.
"The evidence will show that ... they bragged about the fact that there were traffic problems in Fort Lee and that Mayor Sokolich was not getting his calls returned," Khanna claimed on Monday, according to NJ.com.
Although Christie is not on trial over the scandal and has never been named as a conspirator, two of his former staffers — Port Authority appointee Bill Baroni and Christie's former deputy chief of staff Bridget Anne Kelly — face nine counts of conspiracy, fraud, and other related charges.
According to CNN, both are expected to testify against Wildstein, who prosecutors say will admit to conceiving the idea and will also testify that Kelly ordered the closures and Baroni approved them. Baroni and Kelly have both pleaded not guilty.
"He will also tell you that Kelly instructed him to take that action and Baroni blessed it," Khanna said.
Emails and text exchanges were also introduced to the jury, in which Baroni, Kelly, and Wildstein allegedly gloated about the gridlock caused by the closures and discussed not responding to Fort Lee Mayor's numerous attempts to get in contact with them. Compounding the traffic problems, in a now-notorious text message, a former Christie aide reportedly wrote that the governor "flat-out lied" during a news conference about the bridge closures.
"They chose punishment over public safety," Khanna claimed, according to The New York Daily News. "Not only was that conduct mean-spirited, and vindictive, it was illegal." Khanna added that it was an "abuse of power and the callous disregard for the people of Fort Lee."
After dropping out of the presidential race in February and being passed over as a vice presidential pick by Republican nominee Donald Trump, the New Jersey governor has since been an outspoken supporter of the real estate mogul, even though they haven't always always been the biggest supporters of each other.
"He knew about it," Trump said of Christie during a campaign rally last December, referring to the Bridgegate scandal, according to NJ.com. "He totally knew about it."
Whatever happens next, though it's unlikely Christie will be pointed to in any official suit, he'll almost certainly feel the strain of yet another controversial headline — just the latest in a long line of them, to date.