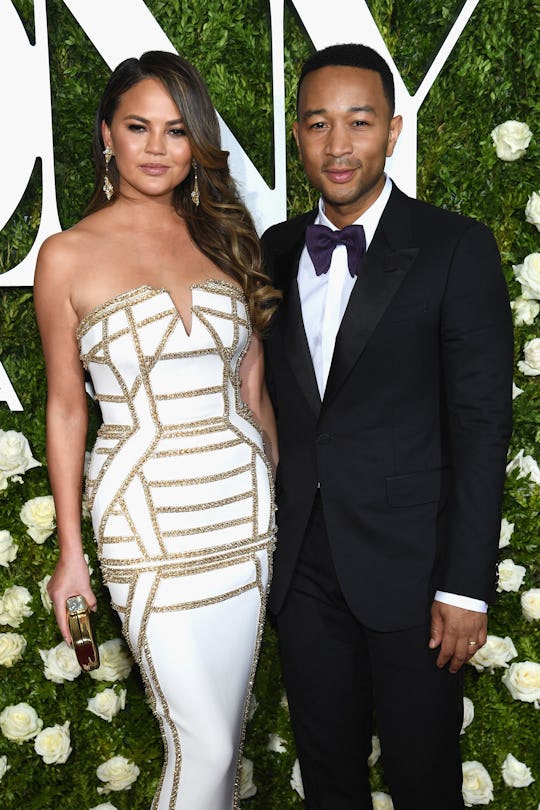 Dimitrios Kambouris/Getty Images Entertainment/Getty Images
Whether Chrissy Teigen Used IVF For Her Second Pregnancy Is Really No One's Business
The Teigen-Legend family is about to get bigger. On Tuesday, Chrissy Teigen took to Instagram to announce she's expecting her second child with husband John Legend. Following the exciting announcement, fans expressed interest in how Teigen conceived this time around, especially since she has struggled with fertility issues in the past. Although it's definitely no one's business, it's not surprising people want to know whether Chrissy Teigen used IVF for her second pregnancy.
As one might expect, Teigen's baby announcement was stinkin' cute. In the video post, Teigen can be heard asking her daughter, Luna, what's inside her stomach. A mere seconds later, Luna sweetly replies, "baby." The best part? The post's caption sarcastically reads: "It's John's!" Yep, this announcement is so on-brand for Teigen.
Amid all the excitement, however, some fans started sharing their stories of infertility in the post's comments section. Although it's great that Teigen's openness about her fertility struggles has inspired many fans and continues to provide comfort to countless parents, it sort of puts Teigen in an uncomfortable position. It's totally possible that Teigen might not want to share intimate details about how she conceived baby number two, and that's more than OK. For now, it might be best if fans just wish Teigen a simple "congratulations" instead of immediately making it a conversation about fertility.
That being said, Teigen is pretty candid about fertility struggles and her experiences with IVF. There's a good chance Teigen did use IVF to conceive this second pregnancy, especially since she recently talked about having one viable embryo left for implantation, according to Marie Claire. Teigen and Legend originally started off with 20 embryos, according to Entertainment Tonight, and they ended up with three embryos: two girls and a boy. The first girl embryo didn't work, but the second girl embryo resulted in little Luna. So, it's reasonable to assume Teigen is currently pregnant with the remaining boy embryo. This lines up with Teigen's claim in October that she and Legend would try for another child in the "coming months," according to Elle.
And in January, Teigen tweeted, according to Page Six:
Since this is coming up again, I said our next baby would be a boy because that is the embryo we have left. A boy. So. Yeah.
Yep, I think it's safe to say Luna will have a little brother sometime in 2018.
And similarly to a lot of other parents, Teigen's experience with IVF has often been difficult. Teigen said of the emotional ups and downs associated with IVF, according to TODAY:
Emotionally, it could be really hard. When you have these high-highs and low-lows, and you're, like, cuckoo pants. You don't want to get your hopes up, but of course, you do.
Additionally, Teigen really struggled with the physical toll IVF took on her body. Teigen admitted, according to SELF:
I looked horrible, totally not myself.
Once Teigen finally conceived Luna and later gave birth to her in April 2016, people frequently bombarded her with questions about when she would start planning for baby number two. Teigen, revealed, according to E! News:
I probably think about it more than anybody. I cannot wait to have the biggest family. Everybody is curious. They're like, "When are you going to do it? When are you going to do it? When's the process going to start?" It's so fun absorbing baby Luna right now.
Obviously, being questioned about your reproductive choices isn't a lot of fun. Although Teigen's fans come from a good place, sometimes you just have to give a celebrity room to breathe and to enjoy the now. Teigen is probably thrilled to be expecting again, and she deserves to savor every single moment of it without having to answer questions about whether she did IVF.
Check out Romper's new video series, Romper's Doula Diaries:
Watch full episodes of Romper's Doula Diaries on Facebook Watch.