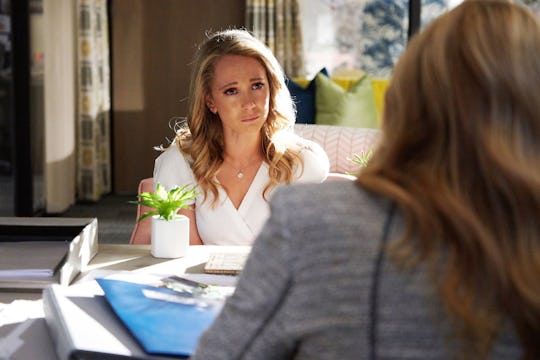 Michael Becker/Bravo
Veronica Investigates Her Mother's Boyfriend On 'Dirty John'
On Dirty John, Debra Newell's daughters Veronica and Terra were suspicious of their mother's boyfriend John Meehan from the start. Their protests didn't sway Debra a bit, so Veronica decided to take matters into her own hands by putting a tracker on John's car and hiring a private detective to look into him. But is that something that actually happened, or was it an invention of the show? Did Debra Newell's daughters really hire a private detective?
Bravo's Dirty John is based on an article and podcast of the same name that unearth what really happened after John Meehan insinuated himself into the life of the real Debra Newell. Her kids, named Jacquelyn and Terra, were just as uncertain about John as their TV counterparts. And Jacquelyn was also just as proactive in trying to expose him.
Much of what happened on the show did actually happen. According to the L.A. Times, Jacquelyn did place a tracker on her mother's car (which John used) so she could keep track of where he went during the day. And it seems Debra's children did hire a private investigator, though it's mentioned in the article without much fanfare. There's no indication that Jacquelyn pawned one of her fanciest Chanel bags to make it happen.
The private investigator comes up after Debra's nephew Shad Vickers (called Toby on the Bravo show) began to feel uneasy about Meehan himself. After Meehan made a joke about how he could "take [Jacquelyn] out from a thousand yards" (another moment that appeared on the show with minor changes), Vickers' concerns only deepened. Worried about his aunt, he decided to take a look at the private investigator's report about Meehan.
The report revealed that Meehan had gone bankrupt, and that he was a nurse, not a doctor as he had initially claimed. His most recent address was a trailer park in Riverside County; Vickers investigated himself by making a call to the residence, though in the show Toby and Veronica take a road trip to get to the bottom of things. Vickers found out that Meehan had previously been involved with the woman who lived at the trailer park, until he disappeared.
But while the P.I. may not have played a huge role in the real story, the same might not be true for the show. Casting a recognizable actress (Judy Reyes, of Claws and Scrubs fame) in the role means she's likely to show up again as the Newell women dive further in John's past. In real life, the unnamed P.I. did offer advice to Debra after she tried to leave Meehan, so it would be harder for him to find her. It was suggested that Debra wear a wig and alter her typical style, as well as change hotels often. She had to be inconspicuous. Reyes may return later in the season to fulfill the same purpose.
Dirty John might change minor details and character names, or occasionally embellish the narrative for the sake of television. But it seems to mostly stick to the truth of what happened, faithfully depicting a story so wild that it doesn't need any exaggeration.
This first-time mom wants to have a home birth, but is she ready? Watch how a doula supports a military mom who's determined to have a home birth in Episode One of Romper's Doula Diaries, Season Two, below. Visit Bustle Digital Group's YouTube page for the next three episodes, launching Mondays in December.