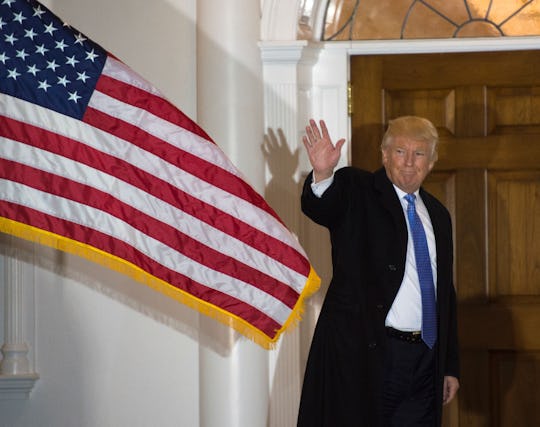 DON EMMERT/AFP/Getty Images
Did Donald Trump Ask Argentine President Macri To Help His Business? Reportedly, Yes
Well, it looks like President-elect Donald Trump wants to build something else before he starts in on that much-publicized wall — an office building in Argentina to add to his real estate business. Reportedly, he doesn't mind using his new government influence to get it done. Just this week, it was reported that Donald Trump had allegedly asked the president of Argentina, Mauricio Macri, to help his business when Macri called to congratulate Trump on his election. So much for getting rid of corruption in Washington.
According to Talking Points Memo, Trump has been trying to build a big office building in Buenos Aires for years, but the project keeps getting delayed because of permits and financing. Allegedly, Trump saw an opportunity when Macri called to congratulate him, and asked the Argentine president to smooth over the permitting issues. The story was reported originally by Jorge Lanata, a prominent, award-winning Argentine journalist, who said on a television appearance that was later quoted in Argentine newspaper La Nacion,
Macri called him. This still hasn't emerged but Trump asked for them to authorize a building he's constructing in Buenos Aires, it wasn't just a geopolitical chat.
Trump's representatives did not immediately respond to Romper's request for comment, while a spokesperson for Macri called the reports "absolutely untrue."
However, this is not the first report of its kind to emerge since the election. Trump has an unprecedented amount of potential conflicts of interest, since he does business in countries throughout the world. Recently, The New York Times reported on a post-election meeting between Trump and his real estate partners in India, which created "the appearance that Mr. Trump and his business partners are using his status as a way to profit."
Add to that reports of foreign diplomats rushing to stay at Trump's new hotel in Washington D.C., which The Washington Post called "a chance to curry favor or access with the next president," and the issue of what exactly Trump is planning to do with his business holdings while he's in office. Traditionally, presidents put their assets into a blind trust managed by independent trustees so that they can focus on doing what is best for the American people, not for their own wallet. Trump has said that he plans to put his assets into a trust managed by his children. However, that's far from "blind," especially since Ivanka Trump has already sat in on a meeting with a world leader, and Trump reportedly asked about getting his children top-secret security clearance.
So it's hard to say with certainty whether or not Trump really did ask Macri to help with his personal business, but it's pretty clear that this won't be the last story of its kind over the next four years.