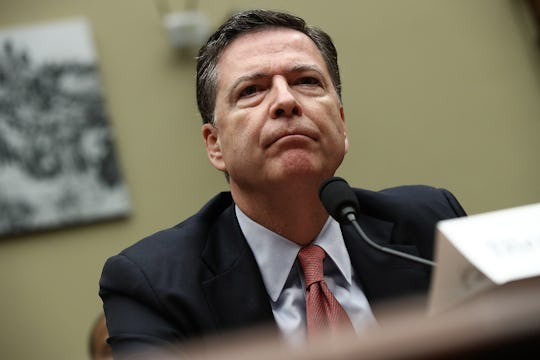 Win McNamee/Getty Images News/Getty Images
Did Donald Trump Pay James Comey? It's A Huge Allegation That Questions Comey's Motives
After FBI Director James Comey submitted a letter to Congress stating that his organization had discovered new emails that could potentially relate to former Secretary of State Hillary Clinton's email server investigation, Democrats are accusing the director of interfering in the presidential election. Some are even going as far as accusing Donald Trump of paying a bribe to James Comey, although there appears to be no evidence of that taking place. Both the FBI and the Trump campaign did not immediately return requests for comment.
The decision of a law enforcement agent to comment publicly on a presidential candidate is unprecedented, and The Boston Globe referred to Comey's announcement as a "last-minute lifeline" for Trump. The Clinton campaign has called for the FBI to share the details of the new potential evidence, as Comey's vagueness has led to unfounded speculation against Clinton just days before the election draws to a close. The Democratic Coalition Against Trump, a political action committee, has filed a complaint against Comey with the Department of Justice, calling his announcement "an obvious attack from a lifelong Republican" to undermine the Clinton campaign. Politicians on both sides of the aisle have criticized Comey's decision; even Newt Gingrich agrees with Clinton's assertion that the emails in question should be released.
The emails were discovered by the FBI during an investigation into allegations that former congressman Anthony Weiner sent inappropriate text messages to an underage girl. (Representatives for Weiner have not responded to Romper's requests for comment. Weiner himself could not be reached.) A source close to the case told Newsweek that the emails were found on a laptop that Weiner shared with his now-estranged wife, Clinton aide Huma Abedin, and were not to or from Clinton herself. The source also stated that the emails don't suggest any illegal activities were committed by Clinton. Comey's letter to Congress, however, claims that the messages "appear to be pertinent to the investigation," although "the FBI cannot yet asses whether or not this material may be significant."
Critics have also accused Comey of ignoring or even covering up ties between the Trump campaign and the Russian government, which is widely believed to be behind the recent hacks of the Democratic National Committee and Clinton campaign chair John Podesta. In a letter to Comey, Senate minority leader Harry Reid charged that Comey possesses "explosive information about close ties and coordination between Donald Trump, his top advisers, and the Russian government," according to USA Today, although Trump denies any such ties, and even denies that Russia was involved with the hack, even though U.S. intelligence officials say otherwise. The FBI is investigating the allegations, according to CNN, but Comey has declined to publicly comment on Trump's investigation, a courtesy he has strangely not afforded Clinton.