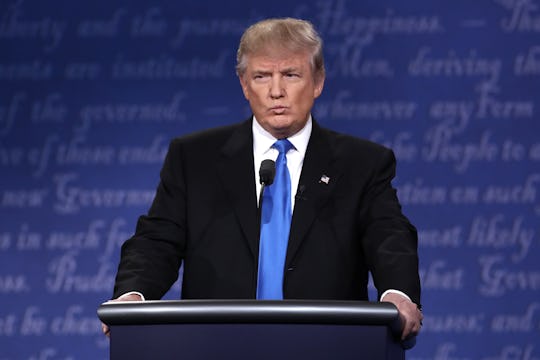 Win McNamee/Getty Images News/Getty Images
Did Donald Trump Say Pregnancy Is An Inconvenience? He Denied It During The First Debate
Republican presidential candidate Donald Trump seems to quite frequently find himself caught in one of his (many) lies. Whether it's a past comment in an interview or a recklessly regurgitated and unfounded statistic; viewers were quick to notice when something sounds a bit "off." One past comment that sounded very "off" was the GOP nominee's stance on pregnancy in the workplace. So, did Trump say pregnancy in an inconvenience? He said it it once in 2004, but denied having said on Monday night during the first presidential debate.
Hillary Clinton was quick to note this damning remark. During Monday night's debate, Clinton argued that, yes, Trump did claim that pregnant employees are an inconvenience to businesses. Trump immediately denied it but, yeah, he did say it. He made the statement more than a decade ago in an interview with NBC News, and it came back to bite him at the debate.
"[Pregnancy is] a wonderful thing for the woman, it's a wonderful thing for the husband, it's certainly an inconvenience for a business," Trump said in the 2004 NBC News interview. "And whether people want to say that or not, the fact is it is an inconvenience for a person that is running a business."
The segment from the 2004 interview was about Carolyn Kepcher, former Trump Golf Properties executive vice president who appeared on The Apprentice. According to NBC News, Kepcher had not told Trump, who was her boss at the time, that she was six months pregnant. She was worried that he might feel inconvenienced by the fact that she would be expecting a child in the coming months.
Still, Kepcher ultimately went back to work part-time three weeks after her baby was born. While she said she felt comfortable with her decision to return to work so soon, the interview asked Trump if he may have put pressure on her to take a shorter maternity leave or she might be replaced.
Trump answered, "No, although it's an interesting premise. Maybe she should feel that way a little bit, but the fact is that would not have happened."
The comments on Monday night between the candidates when like this:
"[Trump is] someone who has said pregnancy is an inconvenience to employers," Clinton said
Trump replied, "I never said that."
Fact-checkers at home and along with those in the media had their work cut out for them at the first presidential debate. However, Trump's denial about this particular comment was easy to spot, because it's been widely reported and quoted throughout this election to prove just how out-of-touch the Republican candidate is with women's issues. Lying, in the end and always, just doesn't negate the truth. Sorry, Donald.