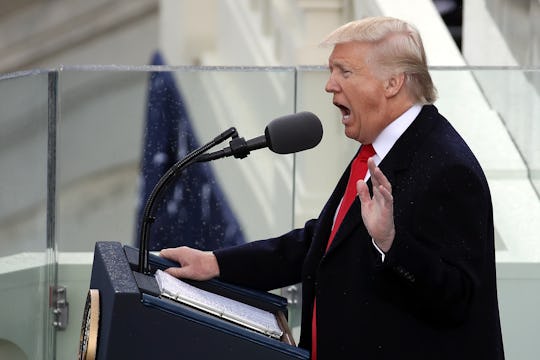 Drew Angerer/Getty Images News/Getty Images
Trump's Inauguration Speech Left Us With Questions
At noon on Friday, President Donald Trump delivered his inaugural address, during which he revisited many of his past talking points (buy American, Islamic terrorists), but also mentioned unity a surprising number of times. It's led some to wonder, did Donald Trump write his inauguration speech? And if not, who did? Members of the Trump transition team told CNN that Trump did prepare the speech himself. Trump usually speaks without prepared remarks at all, although he sometimes relies on his senior policy adviser, Stephen Miller, to write for him. That would explain why his inaugural address was a little different, but undeniably Trumpian.
Trump's remarks were described by some as "blistering" or "radical," as he spent a good portion of it attacking the country he's now sworn to protect, and the government he's now tasked with running. He referred to the "American carnage" he planned to put a stop to. He mentioned "poverty in our inner cities, rusted out factories scattered like tombstones across the landscape of our nation" as well as "the crime and the gangs and the drugs" with the education system strangely sandwiched in between. And just in case you needed further proof that they really were Trump's words, he called the U.S. military "very sad."
Trump also took a firm nationalist stance, complaining that America has "fallen into disrepair and decay" while defending its allies and engaging in foreign trade.
From this day forward, it's going to be only America first, America first. Every decision on trade, on taxes, on immigration, on foreign affairs will be made to benefit American workers and American families. We must protect our borders from the ravages of other countries making our product, stealing our companies and destroying our jobs.
The speech was very much in keeping with Trump's slogan, "Make America Great Again," although NPR has reported that by nearly every measure, "the country is better off than eight years ago." All the specific problems that Trump alleged, such as crime, jobs, and the military, are demonstrably false.
His vague calls to unity appeared to be more of a request than an offer; though he did say that "whether we are black or brown or white, we all bleed the same red blood of patriots," he did not reach out to women or the press, two of the groups that may perhaps cause him the most grief in the coming years. At least, we're going to try.