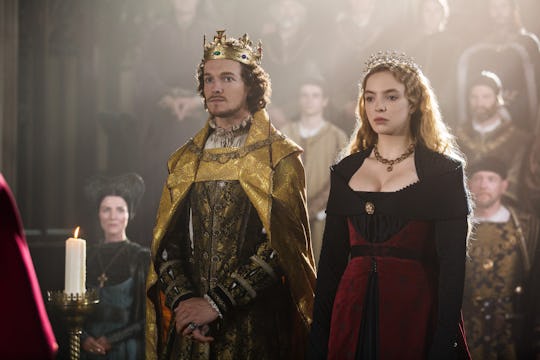 Starz
Elizabeth & Henry's Relationship Is Complicated On 'The White Princess'
As one can expect, marriage was a wildly different concept in the days of Tudor England. For a lot of couples, it wasn't a union of love, but rather a business transaction. This was especially true with royal and political couples. Viewers saw in the premiere of The White Princess that King Henry VII and Elizabeth of York agreed to marry, despite (quite frankly) hating each other. In the second episode, viewers saw how their relationship was developing. Did Elizabeth and Henry VII love each other in real life though? The White Princess depicts an unhappy couple so far.
On Sunday's episode, Elizabeth and Henry were, for the most part, separated: Elizabeth at the palace and Henry on Royal Progress to try to establish himself as the new ruler. They sent bitter letters back and forth, including Henry accusing Elizabeth and the Yorks of orchestrating an assassination attempt. Jacob Collins-Levy, who plays Henry, suggests they eventually do learn to love each other. He discussed their relationship in an interview with Refinery29. "I think the fascinating thing about the marriage of Henry VII is how close they were historically. I mean, they really loved each other," he said. Is that true?
Historians agree with Collins-Levy: Elizabeth and Henry did indeed have a happy marriage — from what they know of their relationship, anyway. The pair had seven children together (only four would live past childhood, and three outlived them, including the famous Henry VIII). While that amount of children is not proof that they loved each other, it definitely connects them in a big way.
Another piece of evidence? Henry VII never remarried when Elizabeth died, which was rare at the time. She passed away suddenly during childbirth on her 37th birthday. Collins-Levy told Refinery29 in the same interview that, "When she died, he really [became] the famous Winter King, paranoid king that he was. We get a sense of how truly in love and faithful they were." When Henry passed away six years later, he was buried next to Elizabeth in Westminster Abbey.
In the second episode, they seemed to be talking civilly with each other... but not lovingly, at least not yet. "If only we could work together, we could be a king for England," Henry tells Elizabeth towards the end of Sunday's episode, "but you hate me, and always will." According to historians — and Collins-Levy himself — that won't always be the case. Perhaps in the next episode, The White Princess will show a glimpse of love between them.