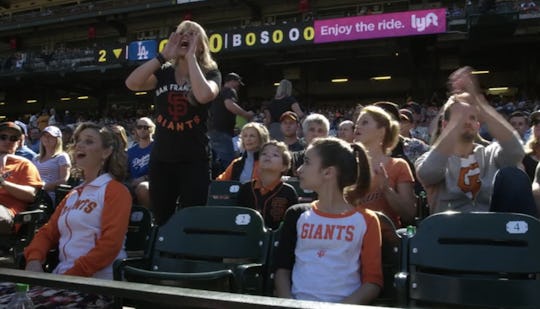 Netflix
Did 'Fuller House' Film At An Actual Giant's Game? Yes, & People Weren't Pleased
When it comes to television shows, they say the setting can sometimes act as a second character. By setting a series in an iconic location, TV producers not only make the show more relatable, but it can give them the opportunity to film in famous landmarks. And the producers of Fuller House took advantage of that. In episode 10, "A Giant Leap," D.J., Stephanie, Kimmy, and the entire gang go to a San Francisco Giant's game. But did Fuller House film at an actual Giant's game, or did the powers of green screen allow producers to superimpose the iconic field?
There was no faking it when it came to filming this episode. As CBS Sports reported, the Fuller House cast and crew took over AT&T Park on Oct. 1, 2015 when the Giants took on the Los Angeles Dodgers. And although Giants fans may have been excited at first — I mean, who wouldn't want to be potentially featured as a speck on a Netflix original series — that quickly turned into frustration.
The filming took place during the traditional seventh-inning stretch. The episode finds Stephanie, who is dating Giants' right fielder Hunter Pence, singing "Take Me Out To The Ball Game." In the episode, the crowd boos Stephanie because she's a supposed jinx. But people weren't pleased with the performance in real life either.
Fans complained on social media about the scene interrupting the flow of the game. And, according to the Los Angeles Times, Dodger's pitcher Brett Anderson found the Fuller House appearance weird.
"I didn't know what the hell that was," Anderson told the publication. "I didn't know if that was serious or what was happening. . . I had to collect myself there for a second."
Clearly it didn't trip him up too much, as the Dodgers beat the Giants 3 to 2. And even if Anderson and fans were annoyed by the appearance, the Fuller House cast seemed to have one hell of a time.
And, as a Red Sox fans, that's the only thing that matters to me.