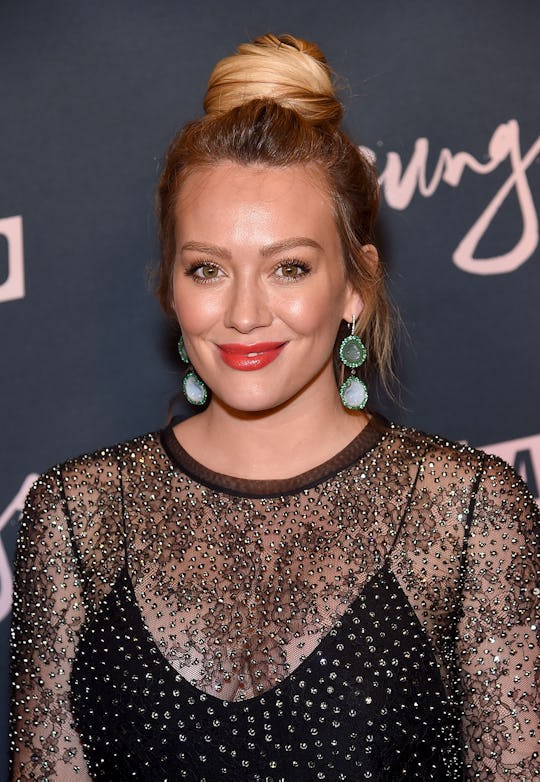 Jamie McCarthy/Getty Images Entertainment/Getty Images
Here's Why Some Fans Think Hilary Duff Hinted She Had A Home Birth With Baby Banks
After months of anticipation, Hilary Duff fans are rejoicing that the actress and singer has finally announced the birth of her new daughter, Banks Violet Bair. (Yes, the name is precisely as unique as Duff promised.) Duff had gone quiet on social media for a few days — presumably, you know, going through labor and what not — and returned on Monday to share the happy news. But it was the announcement's phrasing that had a few fans wondering: Did Hilary Duff have a home birth? According to her Instagram, it sure sounds like it.
On Monday, Duff shared a photo of herself and boyfriend Matthew Koma holding their new baby Banks. "This little bit has fully stolen our hearts!" Duff shared on Instagram. "She joined our world at home on Thursday afternoon and is absolute magic." However, it was the phrasing of that last sentence that made some fans question whether or not Duff actually delivered at her house.
"At home? You're a warrior! Congrats to you and your family!" one comment read. "Yay for a beautiful home birth! Enjoy these precious moments!" read another. Though it's not exactly clear where Duff gave birth, the comment does seem to imply that she opted for a natural, at home delivery.
Duff wasn't the only one welcoming Banks yesterday, either.
Shortly after her post, Koma reposted the photo to his own Instagram account, adding: "We welcome a beautiful daughter, little sister, and best friend for life. Could not possibly be more grateful for our growing family and for the 🍊 who makes it all possible. Cloud ten." Koma also shared a photo of Banks' tiny feet and yet another close up of her face on his Instagram Story shortly afterwards.
Back in June, Duff first announced that she was expecting her second child, a daughter, with on-again, off-again boyfriend of three years, musician Koma. Duff posted a photo of the two of them together, hugging, with her stomach facing forward. "Guess what guys! @matthewkoma and I made a little princess of our own and we couldn't be more excited!!!!!!" she wrote, TODAY reported.
Once again, Koma shared the same photo, and added the following comment to his own page: "We made a baby girl! She will be as beautiful and sweet as her mother... @hilaryduff. Another incredible chapter begins."
Incredible, indeed, though parenting as a celebrity doesn't come without its fair share of challenges.
Though it's heartening to see that not many people are giving Duff a hard time over how she may have chosen to deliver her daughter (it's not that one method of birthing is superior to another, rather that many mom-shamers online will find almost anything to police other moms for). However, Duff has been transparent about the challenge of ignoring the constant ridicule.
"I feel like people are just using [social media] as their outlet to voice their opinions when no one really cares. I don't," Duff told INSIDER while talking about all the "unsolicited parenting advice" moms tend to receive online. "It was quite fun to go through the comments. I was like, 'Guys, come on,'" she told the outlet. "It's so wild. People come out of nowhere and just give you advice. I can be standing in line at Starbucks and someone has some advice for me... It's just so funny that people think [pregnancy] is an open invitation to come and voice their experience to you."
Be that as it is, it seems Duff, Koma, 6-year-old Luca, and baby Banks are adjusting to life as a family of four — and it doesn't seem like they could be happier.