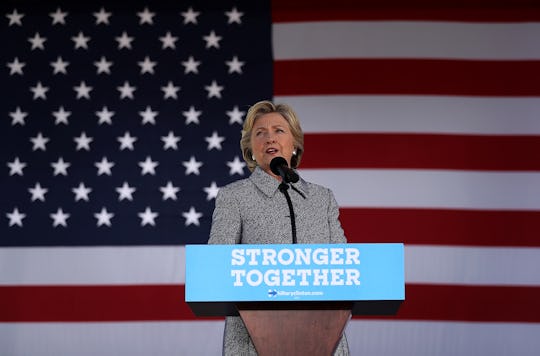 Justin Sullivan/Getty Images News/Getty Images
Did Hillary Clinton Help Alicia Machado Become A Citizen? Trump Is Spreading This Theory
On Friday morning, Republican Party presidential nominee Donald Trump had his sights set on former Miss Universe Alicia Machado. Why? Because Machado has publicly blasted Trump for his past remarks about her body, allegedly calling her "Miss Piggy," among other offensive comments back in the late 1990s. (And there's video evidence of him mockingly saying Machado "likes to eat"). Machado's story became the talk of the town after former Secretary of State Hillary Clinton cited to her comments about Trump, which was captured in a campaign ad video for Clinton, during Monday night's first presidential election debate. And since the debate, Trump has been on a mission to discredit Machado, by even resorting to alleging she has a sex tape. Not only that, Trump instigated a theory that the Democratic Party presidential nominee actually helped Machado become an American citizen. Did Clinton help Machado become a citizen? It's a theory that Trump and his surrogates are touting.
Trump relentlessly took aim at Machado in back-to-back statements on Twitter. He insisted that "Crooked Hillary" was "duped" by Machado, who Trump referred to as a con. (Trump's campaign has not responded to Romper's request for comment.)
Trump then called the Venezeulan-born former Miss Universe "disgusting" and alleged she has a sex tape, all while insisting Clinton helped her become an American citizen. Machado was naturalized back in August.
Certainly, it's a mouthful of remarks with a number of insults and accusations to unpack.
But according to a report by CBS News, Jennifer Palmieri, Clinton's communications director denied claims that Clinton in any way helped Machado to become a citizen, by simply responding "No. No. No. No."
Nick Merrill, Clinton's campaign spokesperson, said Clinton reportedly spoke with Machado on Friday, following Trump's tweetstorm, to thank her for her support of the campaign, according to CBS News.
And the Democratic Party presidential nominee's Twitter account activity on Friday certainly didn't hold back any punches on Trump either. "What kind of man stays up all night to smear a woman with lies and conspiracy theories?" a tweet from Clinton's Twitter read.
Clinton also then gave a jab against Trump on Twitter, calling out his focus on Machado:
While Donald continues day 5 of his Machado meltdown, we'll be in Florida talking about national service. You'll want to watch.
Sadly, news surrounding Machado's alleged sex tape, or past accusations on her being in anyway involved with alleged criminal activity back in the late 1990s (she never faced charges), or even questioning whether Clinton "helped" her become a citizen all take away focus from the actual issues.
Here's to hoping the next presidential debates, and vice presidential debate, will help bring even more clarity on the candidate's stances on policies. Hopefully the focus will be on that and not a back-and-forth on Machado's past.