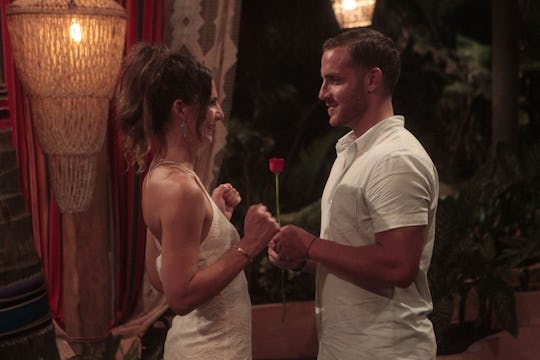 Rick Rowell/ABC
Did Izzy Get Vinny Back After 'Bachelor In Paradise'? She Called Him From The Car
From day one, Izzy Goodkind and Vinny Ventiera looked like they were going to be this season's power couple on Bachelor in Paradise. But before they could fully become the next Jade and Tanner, the gold standard for any Paradise couple, Izzy got cold feet and broke up with Vinny for Brett, also known as "the lamp guy." But once she and Brett broke things off, Izzy decided to leave Paradise to rekindle her relationship with Vinny. So did Izzy get Vinny back after Bachelor in Paradise? She called him from the car, but she got immediately shut down.
Vinny left Paradise completely broken-hearted when Izzy broke things off with him. Izzy might have felt an immediate attraction to Brett, but on Monday's part one of the season finale, Brett made in clear that he felt a stronger connection with Lauren H. than with Izzy. At that point, it became clear to Izzy that she made a mistake in ending her relationship with Vinny. "I fully regret my decision to say goodbye to Vinny," Izzy tearfully confessed. "I let go of something amazing." This was about the point when she decided that she absolutely had to leave Paradise and try to get him back. "I just need to see Vinny," she said, advising Amanda and Lace not to make the same mistake she did in letting the men who love them get away. ‌
Izzy called Vinny from the car, but his response was nothing close to what she was hoping for. She told him she had left paradise and was hoping for a "fairytale," and to come see him in Florida. But he was not having it. After the breakup, he was disillusioned, and didn't see a relationship with Izzy happening anytime soon. That being said, there's some evidence that the two are at least friends after their time at the resort. They were spotted cuddling on a flight together from LA to NYC, and Izzy at least has posted pictures of the two of them on her Instagram. And despite being hurt by her, Vinny still cares enough about his ex-girlfriend to defend her on social media. ‌ ‌
So Vinny and Izzy aren't going to be the next Jade and Tanner. But these interactions at least prove that their connection was real, even if they aren't going to be getting married any time in the near future. Whatever happens, I wish these two crazy kids nothing but the best, fairytale romance or no.