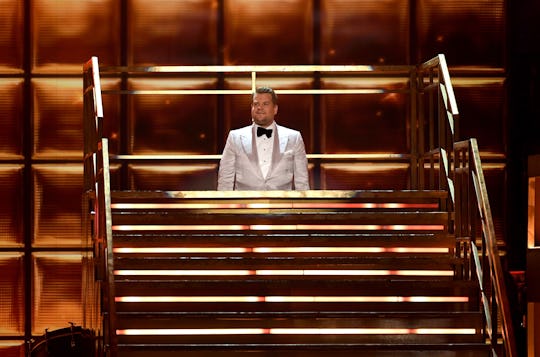 Kevin Winter/Getty Images Entertainment/Getty Images
James Corden's Grammys Opener Had A Few Stumbles
One of the best things about any given awards show is the opening monologue, so viewers were anxiously anticipating how James Corden was going to kick off the 2017 Grammy Awards. And he did not disappoint, though, initially it seemed to get off to a pretty rocky start. But was it all a ruse? Did James Corden really fall during the 2017 Grammys opener? Thankfully, it seems to have been all part of a scripted set up.
It all began when the late night host was rising up from a platform onto a set of stairs. Except the machine stopped bringing him up at the halfway point, forcing him to climb up onto the stairs himself before promptly falling down all of them. Now, watching Hollywood's finest fall on their faces isn't exactly new to these types of award shows. In fact, Jennifer Lawrence has somewhat made a tradition out of it. But was this a legit fall or something he'd planned out all along? Judging by how he acted immediately afterward, I'm predicting it was definitely the latter. By the time he got onto the main stage, he was also missing a shoe, his mic had fallen off, and he looked pretty disheveled all around. I've heard of having a run of bad luck before, but this is all too much to be a coincidence. He planned to open the awards show this way all along.
This stunt was way too perfect and hilarious to not have been pre-meditated. And for the most part, Twitter loved his little fake-out. (Celebrities! They fall too! They're just like us!) And while some of you (myself included) may have been a little bummed that there wasn't a carpool karaoke skit at some point in the intro, Corden did manage to incorporate a bit of music into his opening monologue by doing a bit of rap to get the party started. And, as I'm sure will turn out to be a theme throughout a majority of the night, a few of his lyrics were also slight jabs at our current president.
Corden has spoken out against Trump in other ways before this. A few weeks back, he posted a video, showing how easy it was for him to get through airport security and how it should be for others in light of the travel ban. It's unclear if Trump will take to Twitter to comment on Corden's little joke at his expense this evening, but I wouldn't completely rule it out. But at least we can take comfort in knowing that Corden's little stunt went off well, and most importantly, didn't actually injure him.