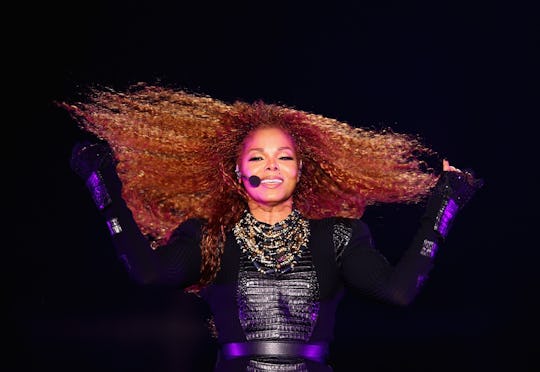 Francois Nel/Getty Images Sport/Getty Images
Did Janet Jackson Have A Boy Or Girl?
It looks like 2017 is arriving with a bit of good news already: singer Janet Jackson and her husband, Wissam Al Mana, welcomed their first baby on Tuesday, according to People. Jackson reportedly had a stress-free delivery and the couple are thrilled with their new addition to the family, according to Jackson's representative. But now that we know Jackson is healthy and happy, fans want answers to the real, pressing questions: namely, did Janet Jackson have a boy or girl? And what is the new tot's name? And, um, can we see any pictures yet, please?
There may not be any baby pictures available yet, but luckily, Jackson and Al Mana have let the public in on a few other answers about their newest family member. Jackson delivered a baby boy on Tuesday, her representative told People, and his name is Eissa Al Mana. (According to Redbook, "Eissa" is not only super unique, it's also Hebrew and means "salvation.")
The world first learned that Jackson was expecting directly from the singer herself. She was in the midst of her Unbreakable World Tour in April when she released an unexpected video on Twitter, canceling all remaining dates on her tour. "There actually has been a sudden change. I thought it was important that you be the first to know," she said in the video, smiling widely. "My husband and I are planning our family. So I'm going to have to delay the tour. ... I have to rest up, doctor's orders."
She and Al Mana remained relatively quiet about her pregnancy, but in November, Jackson posted an update on Twitter that simply said, "Hey you guys.. It's been awhile.. but I'm still listening.. I feel your love and prayers.. Thank you.. and I'm doing well.. Al Hamdu lillah."
Posing with her baby bump for People in October, all Jackson told the magazine about her pregnancy was, "We thank God for our blessing." Her older brother, however, told People that Jackson would be a great mom, since she was "very tough, very strict."
According to People, Jackson has been happily resting up since she gave birth. "Janet had a stress-free healthy delivery and is resting comfortably," Jackson's rep told People. Since the news broke, congratulations have started rolling in for the Unbreakable star, a few in all-caps and with plenty of exclamation marks.
Congratulations to Jackson, Al Mana, and the lovely new Eissa! Here's to hoping they enjoy their first few days together — and maybe, just maybe, that they share a picture with fans.