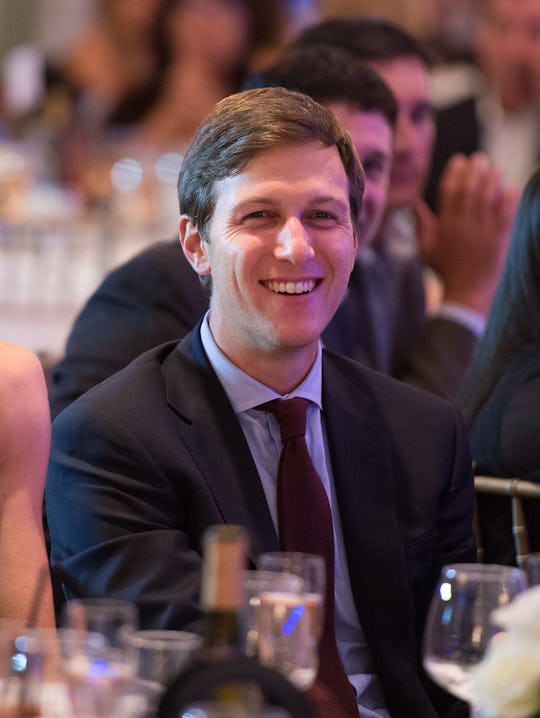 Dave Kotinsky/Getty Images Entertainment/Getty Images
Did Jared Kushner Delete His Tweets?
The probing eye of the public has been turned to Jared Kushner, President Donald Trump's son-in-law, this week. On Monday, news broke that the real estate developer will be speaking with the Senate Intelligence Committee in cooperation with its investigation into Russian meddling in the U.S. election. Heightened interest in Kushner's activities led to a curious discovery: Despite his nearly 38,000 Twitter followers, his account has zero tweets. So did Jared Kushner delete his tweets? The internet was eager to find out.
At first, the emptiness of Kushner's Twitter account, vis-a-vis his upcoming conversation with the Senate, struck many casual internet observers as suspicious. After all, there have been whispers that individuals affiliated with the Trump administration have reportedly been purging their cell phones in anticipation of being subpoenaed. This was reported on Friday by MSNBC's Andrea Mitchell, who said that according to something that she learned "from a single source" who she had spoken with, White House staffers, along with former members of Trump's transition team, have allegedly been deleting calls and texts for fear of being subpoenaed. Mitchell's report has led to conjecture that Trump's team might be acting proactively in the face of investigation.
One Twitter user, BrooklynDad_Defiant!, even referred to a "panicked WH data purge" and suggested that Kushner's empty account was "suspect." And he wasn't alone. Another user alleged that Kushner "deleted all his Tweets," followed by a series of hashtags referencing the Russia investigation. Another user tweeted, sarcastically, that someone who deletes all his Tweets has "nothing to hide."
As it turns out, though, Kushner's tweet-free account doesn't appear to have anything to do with his upcoming conversation with the Senate Intelligence Committee. Indeed, it appears that despite having an account since 2009, Kushner never tweeted in the first place. Going back in time, old Tweets reference Kushner's barren account. For example, this tweet from 2016 is rather harsh on Kushner for having an old, tweet-free account:
Luckily, some Twitter users realized their mistake and apologized, including Thomas Reich, a prolific #TheResistance tweeter, who acknowledged that Kushner has never tweeted, along with a "mea culpa."
Others on Twitter were less disturbed with Kushner's tweet-free lifestyle than the fact that his followers bother with a tweet-less account:
So while Kushner's Twitter account is free from scandal, the actual scandal carries on. According to The New York Times, the Senate will be questioning Kushner "as part of their broad inquiry into ties between Trump associates and Russian officials or others linked to the Kremlin." According to The Times, the Intelligence Committee specifically seeks to question Kushner about meetings he arranged with Sergey I. Kislyak, the Russian ambassador, that took place after Trump was elected but before he took office.
One of these meetings, according the The Times, included a sit-down that had previously not been reported by the White House. This particular meeting, according to officials who spoke with The Times, was between Kushner and Sergey N. Gorkov, the chief of Vnesheconombank — a state-owned bank that is on the U.S. sanctions list as part of the U.S.'s response to the Russian annexation of Crimea. Hope Hicks, a White House spokesperson, told The Times that Kushner "isn't trying to hide anything and wants to be transparent."
We all hope that the truth about the Trump team's possible connections with Russia will eventually see the light of day — but if we want information from Kushner himself, it's safe to say that it can't be found at his Twitter account.