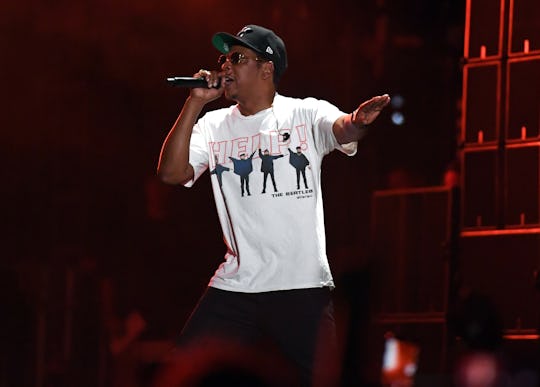 ANGELA WEISS/AFP/Getty Images
JAY-Z's 'SNL' Performance Contained A Political Message
Good news everybody — now that it is officially fall, that means fall television is back, including Saturday Night Live which may just be more political than ever. And that is saying something. This even includes the musical guest, which just so happened to be JAY-Z this week, who you may have noticed had a very distinct wardrobe on during his first performance of the night. So did JAY-Z wear a Colin Kaepernick jersey on SNL? He definitely appeared to be trying to send a message with his performance.
In case you were wondering what exactly President Donald Trump was tweeting about earlier this week, it was not about Puerto Rico. His time was mostly spent talking about the NFL. More and more, football players have been choosing to kneel during the national anthem as a form of protest against police brutality and in support of Black Lives Matter. This was started by player Colin Kaepernick way back in early 2016, when Black Lives Matter was gaining a lot of media attention. The peaceful protest has gotten even more contentious with Trump weighing in last week saying he would like to see NFL owners saying to the protesting players, "Get that son of a bitch off the field!" It looks like JAY-Z has his own thoughts about that.
For the season premiere of Saturday Night Live, JAY-Z opened with his new song "Bam," featuring Damien Marley, which you can listen to on Tidal. By wearing a Kaepernick jersey, JAY-Z was being extremely clear on where he stands with regards to football players inalienable right to free speech. Not that his position is particularly surprising. Consider, for example, his wife's (that would be our queen, Beyoncé) politically charged Lemonade album or her fiercely pro Black Lives Matter halftime show at the Super Bowl.
The song Mr. Carter performed was off of his new album 4:44, which is available exclusively on Tidal. I do not subscribe to Tidal because I really don't need another subscription in my life right now, but journalists have described the new album as both political and personal, touching on his marriage to Beyonce as well as O.J. Simpson and his financial investments.
As far as celebrity royalty goes, JAY-Z and Beyoncé are really good and maintaining their positions in the Hollywood stratosphere while staying relatively private about the more intimate details of their personal lives. Their social media presences (particularly Beyonce's) are heavily curated and edited, never even showing a clear shot of their home. The only time the public ever gets a real idea of what they're going through together is through their art.
Beyoncé has never been particularly outspoken about anything at all in interviews, but she's crystal clear on what she feels in her music (oh yeah, and her close personal friendship with Barack and Michelle Obama). Her husband JAY-Z is much the same. In his song "The Story of O.J." he raps about how important financial freedom is to him. The New York Times reports, "The black-and-white animated video for 'The Story of O.J.' plays with racial caricatures and historical allusions to slavery, the Ku Klux Klan, segregation, lynching, the Black Panthers and more, all while turning lyrically on the assertion by O.J. Simpson that 'I'm not black, I'm O.J.'"
JAY-Z's second performance of the night wasn't quite so politically charged. He rapped the titular track 4:44, with lyrics that were a clear response to Beyonce's Lemonade. "My heart breaks for the day I had to explain my mistakes/And the mask goes away and Santa Claus is fake," he raps in the song. It may not be directed at the president, but it's still a very emotional and powerful performance.
Watch Romper's new video series, Romper's Doula Diaries:
Check out the entire Romper's Doula Diaries series and other videos on Facebook and the Bustle app across Apple TV, Roku, and Amazon Fire TV.