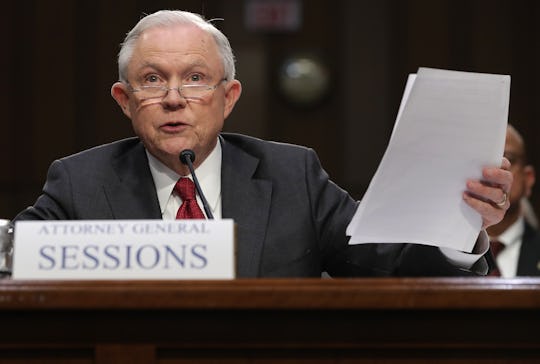 Chip Somodevilla/Getty Images News/Getty Images
Did Jeff Sessions Perjure Himself?
On Tuesday, Attorney General Jeff Sessions appeared before the Senate Intelligence Committee in regard to the ongoing investigation into Russia's interference in the United States presidential election. And, according to some viewers, he might have gotten himself into some hot water during the proceedings. Did Jeff Sessions perjure himself during his senate hearing? Some onlookers certainly think so, and it could be a very big problem. Sessions' office did not immediately respond to Romper's request for comment regarding the perjury allegations.
According to Newsweek, after James Comey's previous hearing on Capitol Hill, the Department of Justice issued a statement that contradicted something Comey said in his testimony. The statement involved the opposing views Comey and Jeff Sessions have on how the attorney general responded when Comey said he asked Sessions to prevent the president from communicating with him directly as director of the FBI. Writer Ryan Goodman was concerned even hours before the Senate hearing that Sessions would perjure himself at his hearing. And now, it looks like Sessions may in fact have lied about at least one part of his testimony. It looks like Session may have lied about never meeting a particular Russian ambassador at the Mayflower Hotel, and someone watching the inquiry pointed out that he had, in fact, met the ambassador.
On Twitter, Mustapha Itani noted that, "Sessions said he doesn't recall meeting Kislyak at the Mayflower Hotel. This is Kislyak next to him in the Mayflower Hotel. #SessionsHearing," in a tweet on Tuesday.
The tweet included a photo of Sessions with the man in question, Russian Ambassador Sergey Kislyak. So for Sessions to say that he doesn't remember meeting Kislyak, his memory is either terrible, which is of course possible, or he is lying.
According to The Atlantic, Sessions was on the defensive during his hearing, and with good reason: he needed to be very careful about anything he said. He had previously stated that any allegations he had colluded with Russia to undermine the election are an "appalling and detestable lie," and that he wouldn't stand for anyone saying he had committed any sort of wrongdoing, according to The Atlantic. He reportedly told the senators present:
I recused myself from any investigation into the campaigns for president, but I did not recuse myself from defending my honor against scurrilous and false allegations ... At all times throughout the course of the campaign, the confirmation process, and since becoming attorney general, I have dedicated myself to the highest standards.
But some are now questioning those high standards, in the wake of possible perjury with just one comment he made during the hearing on Tuesday.
Twitter reacted to to the idea that Sessions might have committed perjury during the inquiry. Author and editor Ben Howe tweeted, "So Comey said something under oath, and now under oath, Sessions says that was a lie. So at this point, someone has committed perjury."
Twitter user @JonRiley7 was incredulous about the possibility, tweeting, "Everyone agrees Sessions committed perjury orally & in writing by denying Russian meetings. We're just letting that go? #SessionsHearing"
Singer Ricky Davila retweeted a photo showing Sessions with Kislyak, and tweeted, "Jeff Sessions just said he didn't remember seeing Kislyak at The Mayflower, yet here's the pic. That's called perjury. #SessionsHearing"
And before Sessions' hearing started, the Twitter account @RiotWomennn tweeted, "Will Sessions commit perjury again? Cause ... it's gettin' hot in there. #SessionsTestimony," along with photos of the attorney general sipping a glass of water.
The Kislyak photo in particular is making the rounds, because when Minnesota Sen. Al Franken, a Democrat, asked Sessions back in January how he would respond if he found out that anyone associated with the Trump campaign had communicated with the Russian government during the course of the 2016 presidential campaign, according to Elite Daily, Sessions reportedly said:
I'm not aware of any of those activities.
I have been called a surrogate at a time or two in that campaign and I did not have communications with the Russians.
And the photo proves that he clearly did.
If Jeff Sessions committed perjury during his Senate Intelligence Committee hearing, there could (and should) be serious consequences. Think Progress reported that, 18 years ago, when Sessions believed former President Bill Clinton had perjured himself, he wrote that "equal justice requires that he forfeit his office." By that standard, if Sessions committed perjury, then according to his own beliefs, he should do the same.
The attorney general, the president, and anyone else in the highest halls of government are not above the law. And they should be held accountable for their actions, especially if those actions involve breaking the law before countless Americans watching at home who are expecting transparency from their representatives and their government.