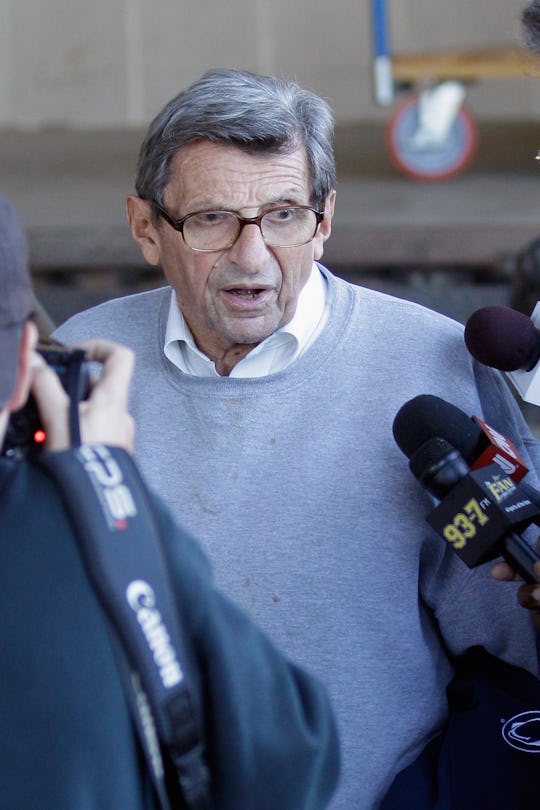 Rob Carr/Getty Images Sport/Getty Images
Did Joe Paterno Know About Jerry Sandusky's Abuse Claims? Unsealed Records Claim He Did
According to court documents that were unsealed on Tuesday, in 1976 a teenage boy allegedly revealed to former Penn State coach Joe Paterno that he had been sexually assaulted by assistant coach Jerry Sandusky. The same boy also claimed that his complaint was allegedly ignored. In the deposition, the victim (referred to as John Doe 150) recounted that Sandusky had assaulted him in the shower. Penn Live reported this week that John Doe 150 "shouted out" the specific incident of molestation, which Sandusky then apologized for. Doe 150 speculated that other campers had heard him. Doe 150 also claimed he told "several coaches," none of whom acted immediately on the incident. Finally, Doe 150 claimed he told Paterno what had happened, to which Paterno allegedly replied: "I don't want to hear about any of that stuff, I have a football season to worry about." If these allegations are valid, it's possible that Joe Paterno knew about Jerry Sandusky's abuse claims, though he denied them repeatedly until his death in 2012.
After reportedly telling Paterno about what had occurred, Doe 150 said he was "shocked, disappointed, offended, [and] insulted," the Associated Press reported. Doe 150 recalled reportedly asking Paterno, "Is that all you're going to do? You're not going to do anything else?" According to his account, Paterno allegedly "just walked away."
Doe 150 was 14 years old at the time of the incident and testified about it in court in 2014. The court documents were just recently unsealed because of a "legal dispute between the university and an insurance company over the responsibility for nearly $93 million the school paid in settlements with victims," according to The Washington Post.
A statement issued by the Paterno family on Tuesday rejects this allegation, stating that "there is extensive evidence that stands in stark contrast to this claim." They went on to assert that the university's $93 million settlement occurred "without [the university] fully assessing the underlying facts." Additionally, the Paterno family is suing NCAA, claiming that the organization "defamed the once-legendary coach by placing blame on Paterno and imposing sanctions on Penn State," NPR reported.
Paterno's degree of awareness regarding the extent of Sandusky's abuse has been a topic of much speculation. In 1971, a different victim explained how he was raped in a Penn State bathroom. The victim called Penn State and spoke with two men on the phone, one of whom introduced himself as "Joe." In a conversation with CNN, the victim claimed that "there was no question in my mind who Joe was," and that he'd "heard that voice a million times. It was Joe Paterno."
These mounting allegations aim to hold someone responsible for the violence and abuse committed on at least 45 counts. As legal proceedings continue, Penn State is faced with the likelihood of further legal headaches and, if nothing else, more damage control.