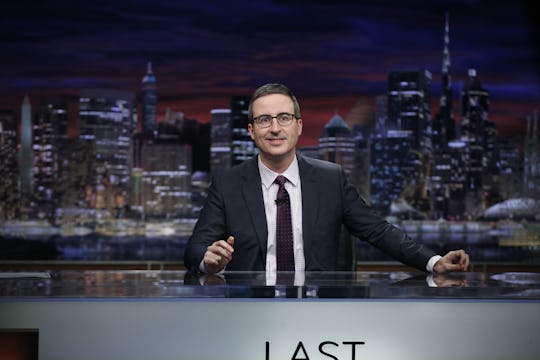 Eric Liebowitz/HBO
Wait — Did John Oliver Really Just Quit 'Last Week Tonight'?
Over the past five seasons, John Oliver has successful combined real news with hilarity in a way that makes people laugh, but still feel informed. However, at the end of the May 6 episode, it looked Oliver was packing it in, ending his Emmy-winning series for good. So did Oliver really quit Last Week Tonight or was it all just a ruse?
In case you missed it, this all began when earlier this year Oliver won one of Russell Crowe's old jockstraps in an auction and decided to donate it to a Blockbuster in Alaska (yes, Blockbuster does still exist). For some reason, this enamored Crowe so much that he decided to donate all the proceeds from Oliver's bid to a clinic that treats chlamydia for koalas. The donation came along with a plaque that read "John Oliver Koala Chlamydia Ward."
With that honor now under his belt, Oliver felt there was no need to continue with his show, because, according to him, when the show first began he'd only had one goal — to get a koala chlamydia ward. Thus, his job was done.
"We've accomplished everything we've set out to do on this show," he said. "Which means, thanks very much everyone, but we are f*cking done here. That's right, let's shut it down. This show is over. Pack it up, w'ere going home. We did it. We got the koala chlamydia ward."
Oliver then walked off stage and the lights were turned off behind him, seemingly marking the end of his series. Though Oliver is obviously an expert jokester, fans still took his exit quite seriously and quickly took to social media, wondering if this really was the end of Last Week Tonight. Thankfully, this was all just a joke and not only will Oliver be back with a new episode next Sunday, but according to HollywoodLife, the hit series has already been renewed through 2020. Thus, fans have nothing to fear and can take comfort in knowing that Oliver was just messing around.
Besides, how could Oliver just quit now when there's still so much news to cover. Fans need his weekly updates on the Trump administration and with the royal wedding just around the corner, you know Oliver will probably have something to say about that as well. There's so much news going on these days that it'd be a shame if the late night host truly bowed out now — especially when his show only gets better and better with each passing season.
At least fans can now take solace in the fact that Oliver's only just getting started and he's not going anywhere. Even with his parody book about Vice President Mike Pence's pet rabbit selling out everywhere, Oliver is clearly still sticking with his day job, and fans couldn't be more appreciative. Though some viewers were a little angry about the cancellation scare, for the most part everyone is just relieved that it wasn't legit and they can look forward to more jokes and news coverage from Oliver in the future days to come.
Oliver himself hasn't addressed his little prank, but it wouldn't be surprising if he's saving his commentary about it for the next episode of the show. Or perhaps he'll pretend like it never happened at all. With Oliver you can never really know what to expect. That's what makes watching his show so enjoyable. Even when he's discussing serious topics, Oliver knows how to put his own spin on it to draw viewers in.
A new episode of Last Week Tonight continues on Sunday, May 13 at 11:20 p.m. ET. Make sure you don't miss it! It's sure to be another entertaining and informative episode.
Check out Romper's new video series, Romper's Doula Diaries:
Watch full episodes of Romper's Doula Diaries on Facebook Watch.