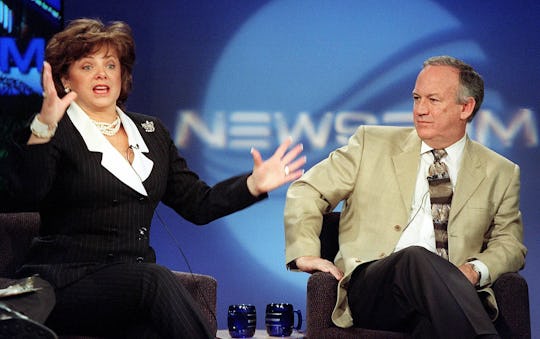 MARIO TAMA/AFP/Getty Images
Did John Ramsey Approve Of JonBenet Ramsey's Pageants? He Regrets It Now
After JonBenét Ramsey's death in 1996, the 6-year-old's image was plastered on newspapers and tabloids everywhere, and it remained there throughout much of the late '90s. The photos — with her winning smile, teased blonde hair, and pageant crown placed upon her head — have become the image that remains frozen in time. Even though JonBenét had actively competed in pageants for years, many wondered whether John Ramsey approved of JonBenét's pageants or whether he against them altogether.
The photos of JonBenét, all dolled up in her makeup and hair products, were the ultimate example of childhood pageantry — long before shows like Toddlers and Tiaras aired on TLC and became popular. Although JonBenét had been wildly successful with childhood pageantry, her father, John Ramsey, now believes otherwise. Ramsey told ABC News in 2012 that pageants were just "fun" for JonBenét and her mother, Patsy. Romper reached out to Ramsey's representative for comment, but did not hear back at the time of publication.
But years later, John had a change of heart and told ABC News that he now "regrets" putting his child in pageants, sharing one bad memory in particular with ABC News:
Patsy had her sitting atop a friend's convertible in the Christmas parade, waving at the people lining the streets. Patsy's mother later told me that a strange man approached the car during the parade and it make her uncomfortable. I think about these things now and it makes me cringe. We were so naïve.
I now believe with all my heart that it's not a good idea to put your child on display.
In a 2012 interview on Anderson Live — anchor Anderson Cooper's daytime talk show — John reiterated to audience members that he likely would not allow JonBenét to participate in pageants today, if she were still alive and had grown up in recent years:
No, I wouldn't [allow her to participate in pageants]. And I don't think that had anything to do with her murder but I didn't care for the atmosphere particularly.
JonBenét was an extremely extroverted person. Patsy was trying to give her venues to learn who she was.... She was not a beauty queen, as she was labeled. That was just one small part of her life. She was also a violin player, a rock climber, a piano player — you know, a tomboy.
According to CNN, JonBenét had won countless titles as a young pageant queen, including the title of "Little Miss Colorado." According to the Los Angeles Times, Patsy herself had been a former beauty queen; Newsweek reported that Patsy had won the title of Miss West Virginia in 1977. She died of ovarian cancer in 2006.
But despite the way that the tabloids have preserved this image of a young, well coiffed beauty queen into the minds of magazine readers, John's image of JonBenét is a little different, telling ABC News, "I see her, you know, in shorts and t-shirt and hair kind of scruffy and just kind of a kid."
JonBenét's image and her ties to pageantry will surely be revisited when The Case Of: JonBenét Ramsey airs on CBS Sunday, Sept. 18.