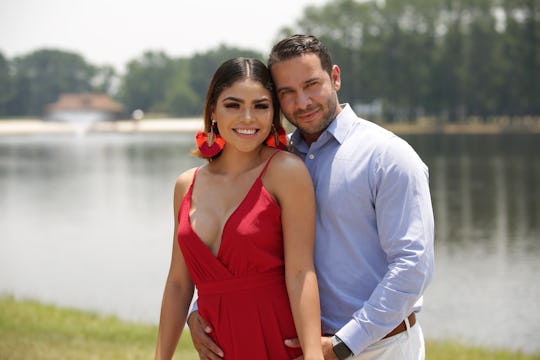 Courtesy of TLC
Here's The Deal With Jonathan Seemingly Cheating On Fernanda on '90 Day Fiance'
This season of 90 Day Fiancé is only several episodes deep, but one couple may be already on the rocks. Jonathan and Fernanda have gotten into a number of fights regarding his behavior around other women, making it hard to tell whether they will tie the knot or call things quits at the end of her 90-day visa. Did Jonathan cheat on Fernanda on 90 Day Fiancé?
As long as you don't count suspicious thongs or dancing with other women as cheating, then there's no explicit evidence that Jonathan cheated on Fernanda. However, Fernanda isn't so sure about that. During the season premiere of 90 Day Fiancé, Fernanda arrived in North Carolina to live with Jonathan. And pretty much immediately upon arriving at his home, she discovered a pair of women's underwear in his dresser. Jonathan told her that the thong belonged to an ex, but Fernanda was hesitant to believe him.
"I want to trust him. I want to believe him, but you never know ... It's my first day here." she said on the show. "It was terrible. When I came here, I'm so excited and it made me feel stupid … I want to believe in him, but you think the worst."
In the episode that aired this past Sunday, Fernanda expressed her concerns over the thong to Dani, a friend of Jonathan's, when the two women went shopping together. Dani reassured Fernanda that Jonathan was just acting dumb, which I personally do not think is a legitimate excuse.
And that wasn't the only time Jonathan played with Fernanda's trust issues. A bit later, Fernanda catches Jonathan dancing with another woman at a club. "What the hell are you doing?" Fernanda shouts at the woman, and throws her drink in her face. "I'm here alone. You don't know how I feel," Fernanda shouts at Jonathan in the parking lot. "I can't do this," she adds as she walks away.
"Who is she?" Fernanda asks Jonathan back at home, but it's not clear who she's referring to. "She's a friend of mine," he tells her. "Fernanda can be a very jealous person," Jonathan narrates. Um, yeah dude, and I think she's feeling jealous for a pretty good reason! She moved to another country to be with you, and you thank her by leaving another woman's thong in your drawer and by dancing with another woman. Obviously, I am Team Fernanda here, all the way.
However, the couple seems to still be together based on social media. Just this past Wednesday, Fernanda just posted a photo of the two in a car looking very glam. "The secret of change is to focus all your energy, no fighting the old, but on building the new," she captioned the shot.
Jonathan and Fernanda first met at a nightclub when he was on vacation in Mexico, where she is from, according to a press release from TLC. He extended his stay in Mexico by three days to spend more time with Fernanda, and just three months later, he proposed.
On the next episode of 90 Day Fiancé it will certainly be interesting to see how the couple handles all the drama.