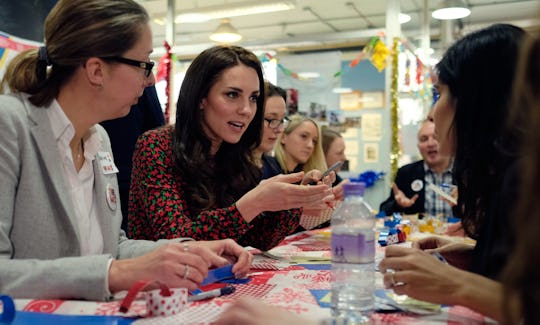 WPA Pool/Getty Images Entertainment/Getty Images
Meghan Markle Had A Spa-Themed Bridal Shower, But Did Kate Middleton Have One?
We're two days away from the wedding of American princess Meghan Markle to His Royal Highness Prince Harry at St George's Chapel in Windsor, England and everyone is caught in wedding fever. All of this excitement has led many of us to remember seven years ago, when second-in-line Prince William and Kate Middleton were married. I know that when news of Meghan Markle's glamorous bridal shower was announced, I tried to remember what I'd heard of Kate's, and came up empty. Did Kate Middleton have a bridal shower, or is that only an American tradition that Meghan imported for her big day?
Alas, the details of such pre-wedding soirées are kept pretty mum, with only a few details leaking. In recent published reports over Meghan Markle's swank bridal shower at the posh Soho House, Kate's own hen parties were mentioned, but nothing of consequence was noted. There was no official royal announcement of any such party, nor does mention of one exist in any of London's major newspapers or tabloids. That doesn't mean that we can be 100 percent positive that the Duchess went without a bridal shower of her own, but that it was not really reported on at any length.
What we do know is when the Duchess does attend a bridal shower, she does so in style. Her impeccable taste is present in every outfit she chooses, but perhaps never more so than when she attended the bridal shower for her younger sister, Pippa. According to photos taken at the fancy shindig, her royal highness Kate wore a stunner of an Alexander McQueen ivory day dress with a lace overlay reminiscent of her own wedding dress. She carried a chic and understated light millennial pink clutch and the spectator atop her head was sheer inspiration, noted Martha Stewart Weddings.
There is no record as to what Middleton took the bride as a gift, but I think it's safe to say she didn't roll up on her local Marks and Spencer and pick out a dust buster and four-pack of stemless wine glasses. Personally, I can't imagine the pressure a royal must feel when giving a gift. Really. My go-to bridal shower gift is a fistful of cash and probably a novelty mug or tee shirt of some kind because nothing says "I value our friendship" like a mug with David Gandy on the front that disrobes as hot liquids are poured in.
Moreover, what on earth do you get for a royal? Is there some sort of weird kneeling ceremony wherein you swear loyalty forever and that's the gift? "Kneel before me and solemnly promise you'll never leak those pictures from that weekend in Cabo and we'll call it even." Actually, that's pretty great, can we make that a thing for everyone?
So did Kate Middleton have a bridal shower with this made-up ceremony performed? If she did, there's no trail to be seen of it. As to her bachelorette party, what is known in the U.K. as a "hen night," The Daily Mail, a gossip tabloid in Britain reported in 2011 that "The royal bride is understood to have celebrated her last days as a single woman with a private party attended by a small group of close friends."
Honestly, if you're about to become one of the most famous women in the world, having everyone judge your every move, every word, and every action you complete, a quiet night alone with friends is probably just the thing. After all, who needs a bridal shower when you're about to marry the future King of England at Westminster Abbey in front of the Queen and all the world, right? Best to have a bit of a lie-in before that.