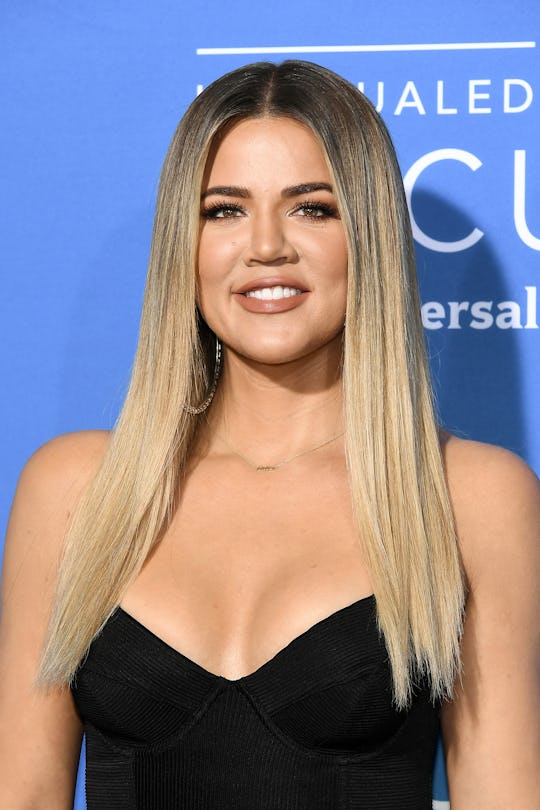 Dia Dipasupil/Getty Images Entertainment/Getty Images
PSA: Stop Asking If Khloe Kardashian Used IVF
While rumors have been circulating for months with reckless abandon, Khloé Kardashian decided to give the country (read: the world) a holiday gift when she finally confirmed her pregnancy via Instagram. But her pregnancy announcement has more than a few die-hard fins wondering, did Khloe use IVF? Of course, it's no one's business how the Kardashian decided to procreate, which is perhaps the only good thing to come from multiple people asking this unnecessary, inappropriate, and pointless question.
On Wednesday, Dec. 20, a mere five days before Christmas (thank you, Khloé and crew!) Kardashian posted a moving, black-and-white photo of her baby bump, wearing Calvin Klein undergarments with her parenting partner and boyfriend, Tristan Thompson, holding her hands as he lightly puts his hands on her stomach. The picture is nothing short of beautiful, and just what any media-friendly, Kardashian-loving person (who doesn't live under a rock) would come to expect from Khloé. But it's the words she posted alongside the picture that have fans wondering just *how* she got pregnant. Here's her announcement, in all its glory, along with the caption that gives fans an inside look into her life; a look that highlights her excitement about being pregnant and becoming a mom, but in no way indicates how she ended up pregnant (and why would it?!):
The caption is truly a beautiful message of impending motherhood, with Kardashian writing, "My greatest dream realized! We are having a baby! I had been waiting and wondering but God had a plan all along. He knew what He was doing." But it's what follows that has people inappropriately prying into Kardashian's reproductive choices.
I simply had to trust in Him and be patient.
Ten words is, apparently, all it takes for someone to question how a woman became "with child." And while the Kardashians are high-profile celebrities, with multiple reality television shows that have made them wealthy in a way very few of us can fathom, that doesn't make it OK for other people to inquire as to how any woman, Kardashian included, ended up gestating.
It's no wonder that the need to keep this news private even made its way into Kardashian's pregnancy announcement, which is as sad as it is indicitive of a culture that constantly wants women to validate their existence by explaining how, when, or why they decided to become pregnant. In the pregnancy announcement, Kardashian wrote:
I know we've been keeping this quiet but we wanted to enjoy this between our family and close friends as long as we could privately. To enjoy our first precious moments just us ❤️ Thank you all for understanding.
Any woman, regardless of her social status or how much money she makes, should be able to be in control of not only her reproductive choices, but how she decides to introduce them to the rest of the world.
According to an annual report from from the Society for Assisted Reproductive Technology published in 2014, more women are becoming pregnant via IVF than ever before. The report found, as reported by CNN, that "about 2,000 more babies born using treatments from IVF clinics [in 2012] than in 2011." Yet, there's a prevailing stigma associated with medical intervention used to become pregnant, and the Kardashian clan are no strangers to this prevailing judgment.
For example, Kardashian's sister, Kim Kardashian-West, has received insurmountable backlash for deciding to use a surrogate to have her third child with Kanye West. It didn't matter that Kardashian-West has a known history of pregnancy complications, including preeclampsia. According to the American Pregnancy Association (APA), if preeclampsia is not treated early, "it can lead to serious complications for the mother such as liver or renal failure and future cardiovascular issues." And still, Kardashian-West has been on the receiving end of endless judgment and shame for not having a child the so-called "natural" way.
The truth is, in this specific instance and always: it doesn't matter how any woman, including Khloé Kardashian, ended up pregnant. What matters most is that the mother is healthy, the fetus is healthy, and the pregnancy was a conscious decision made by the woman whose body is growing another human being.
So IVF, or no IVF, congratulations, Khloé.
Check out Romper's new video series, Romper's Doula Diaries:
Watch full episodes of Romper's Doula Diaries on Facebook Watch.