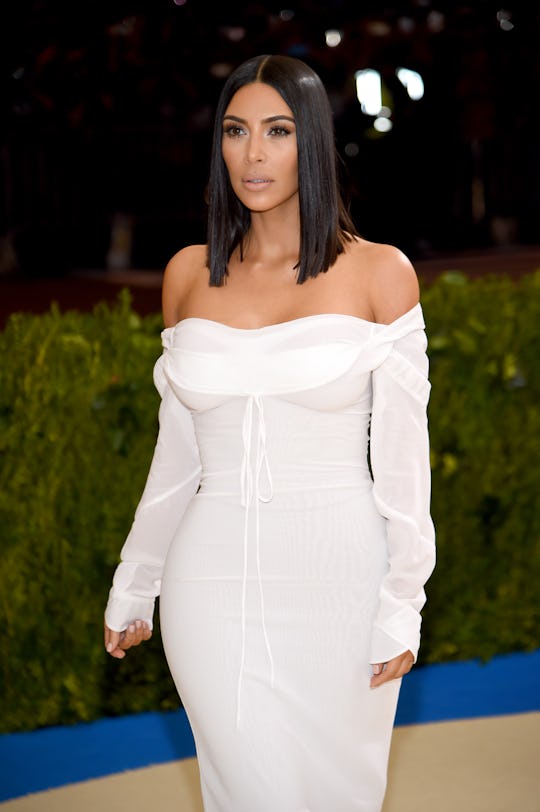 Dimitrios Kambouris/Getty Images Entertainment/Getty Images
Solo Kim Kardashian Stunned On The Met Gala Carpet
Every year, Met Gala fans count on certain celebrities to show up in buzz-worthy outfits fit to launch a thousand memes. The list of reliable tastemakers includes stars like Rihanna, Beyoncé, and, of course, Kim Kardashian and Kanye West. But did Kim and Kanye attend the Met Gala together this year? Unfortunately, fans had to look elsewhere for their matching designer outfit fix, because West stayed home.
Kardashian and West had previously attended the annual Metropolitan Museum of Art Costume Institute benefit together every year since 2013, when Kardashian was pregnant with their daughter, North. The rapper and the reality TV starlet became known for their coordinating Met Gala ensembles, like last year's sparkling silver outfits to honor the "Manus x Machina: Fashion In An Age Of Technology" theme. And many fans were looking forward to what the married couple would do for 2017's theme, "Rei Kawakubo/Comme des Garçons," honoring the famed avant-garde designer whose work is anything but conventional. It seemed like a perfect chance for the couple to pull out their most interesting fashion choice yet.
Kardashian, of course, did not disappoint, showing up in white, off-the-shoulder, fitted and draped Vivienne Westwood — a bit underwhelming compared to some, but nonetheless glamorous.
But where was West? Turns out that he decided to stay in Los Angeles with the kids this year, and it was probably a smart decision for him.
West was hospitalized for exhaustion back in November, after a wildly busy year where he was working nearly non-stop on his fashion design projects as well as traveling all over for his "Saint Pablo" tour, with all the pressure culminating in a breakdown. And ever since his release from the hospital, the rapper has been staying out of the spotlight, a big change from his previous lifestyle. The rest seems to have been good for him and so, although he initially planned on attending the Met Gala, according to sources, he ultimately decided that it would be better for him to just stay home. As a source claimed to People, "It had nothing to do with the Met Gala. It was more about the stress and pressure of a big red carpet. He just wasn't quite there yet."
And apparently Kardashian is totally standing behind her husband's choice to sit this one out, just as he stood behind her choosing to go. A source told E! News, about the state of West and Kardashian's marriage, "He and Kim are doing fine. He has been taking time off and is totally supportive of Kim attending."
Here's hoping that West gets a chance to rest up. And kudos to Kardashian for killing it on the red carpet, as usual.